Wednesday, December 17, 2003
Desktop Visual Search Engine Extends Researchers' Information View
Grokker 2.0
http://www.groxis.com/service/grok/

= breakthrough tool
Desktop Software (Win & Mac)
Free to try - USD $ 49 to buy
Grokker is a phenomenal search tool ahead of its time.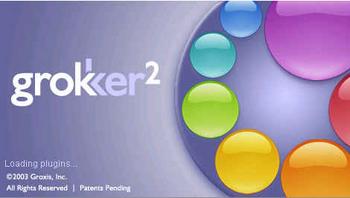 Visual metaphors that simplify and expand our ability wade and sift through information are starting to appear in mainstream applications and online services.
As the amount of information sources, news, articles, essays and other forms of content grow at an exponential speed we are yet to become aware that the tools we are presently using are way inadequate to match the "mass" of information bits available to us.
Our ignorance and lack of appropriate tools/methods has given good rise to the many qualified SEO and SEM specialists. These specialists sell their valuable time by crafting dedicated strategies that can allow most any Web page to achieve one of those top twenty or thirty top positions inside Google search results, which is as much most of us scroll through.
So, instead of expanding our access to information we are actually limiting it by way of the "glasses" we are using to look at it.
In this fashion, whoever knows best how to leverage the strategies and algorithms that make some sites stay on top of some searches while others remain buried under hundreds of others, are the ones bound to make themselves known and heard in the near future.
By designing and developing more appropriate "search glasses", capable of easy zooming inside and outside of the content being searched we can attain a much higher and more effective ability to search and navigate through information, providing us with much ampler opportunities, ideas and solutions in much, much less time.
Search engines like Kartoo have also pushed the limits of what we have come to expect from a traditional search engine by providing new and unfamiliar ways to search and analyze online query results. Anacubis and its desktop search tool have also taken a similar highly visual approach.
The TouchGraph Google Browser is a fascinating tool that allows the effective visualization of Web sites and their relationships according to content and topics.
The Visual Thesaurus is now a commercial product after having been a demo jaw-dropper for several years.
As you can see, some of these solutions leverage existing search engines and their contribution is specifically geared at changing and extending our ability to wade through large amounts of information bits by providing us with visual approaches to information discovery.
This ability is radically absent from a standard search engine as Google, where results are provide in a very linear, serialized way. Read each one, scan each title and description and then jump with your eye to the next result. And so on.
There is no comprehensive view of the results "panorama". No way of gauging visually the amount of results obtained or to see in which major groups these could be subdivided.
Only by going to some of the so-called clustering engines like Vivisimo, Teoma or Wisenut you would be able to approximate a classified and pre-organized set of results, facilitating your task of searching and finding what is most relevant to you.
Grokker is a giant step forward for avid researchers, reporters, journalists, librarians and any other information junkie looking for more and easier ways to get at the specific information she is seeking.
Grokker is your new pair search glasses providing vision, breadth, and excursions inside search results like no other technology can.
Easy to use, effective, speedy and providing you just enough extra controls to make your searches as efficient as they can be.
The views from inside Grokker have been breathtaking for me, and the amount of serendipitous discoveries that have emerged from my searches has been both impressive and novel to me.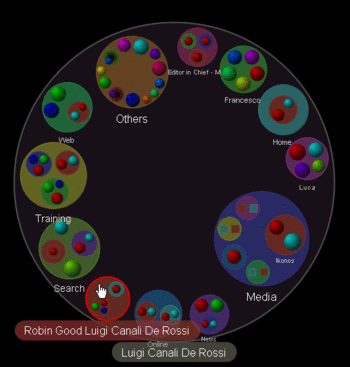 Navigation is extremely intuitive, and things zoom in and out in the easiest possible way.
I would not recommend Grokker to anyone having less than a Pentium III with a good amount of RAM. Having a speedy connection to the Internet does help as well.
Grokker is indeed an avid memory eater and heavy taxer of your CPU processing power, therefore do not use Grokker when you already have 600 other applications open on your desktop.
Far from being perfect, Grokker will be probably overloaded by complaints and requests on how to make it better and more powerful. That should only show how long users have been silently waiting for such innovative visual search and discovery tools to arrive.
Wade through each three without loosing sight of the forest, and learning while you sift through, the trails that take you from one forest to the next.
This is positively only the beginning of growing stream of great visual search engines!
Highly recommended.
Alas, the Mac version isn't ready yet. I've been following this company for awhile, waiting for it.
---
posted by Robin Good on Wednesday, December 17 2003, updated on Tuesday, May 5 2015