The Future Of Web Conferencing: Good Interviews Marv Toyer
Sponsored Links
I am today with Marv Toyer, CEO and President of eBLVD, a small Web conferencing and real-time collaboration company that has been aggressively redefining the way cost-effective collaboration can be carried out over a secure transport and apparently - open your ears - across any network firewall.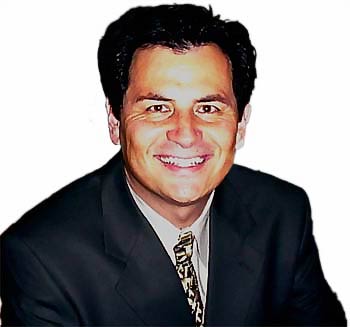 If you don't believe eBLVD claims go and try-out for free their latest release of their 2-year old online service and see for yourself.
eBLVD is like GoToMyPC on steroids as it provides easy connectivity to anyone PC from one or more other computers simultaneously. For its relative simplicity and strong core on desktop/application sharing eBLVD could be assimilated to a souped-up version of Glance having all of those extras that more than a few of us would have liked to see (audio, text chat, remote control, etc).
Marv Toyer adds one more view to this rich collection of glances into the future of Web conferencing, and as all the others who have preceded him provides insightful points as well as familiar truths.
More than anyone Marv has avoided long and winded discourses to state what is already obvious to most. In his synthetic responses he often well summarizes the essence of what this fascinating future inside cybervirtual spaces.
Robin Good: What is Web conferencing really and what will it be like in a few years from now?
Marv Toyer: We define Web conferencing as two or more people in separate locations sharing the same visual and audio content via internet-connected computers. Web conferencing differs from 'webcasting' in that communication is generally one-way (from presenter to participant) -- not interactive or collaborative in nature.
In the future, Web conferencing will combine all the elements of real-time communication and collaboration into a simple, common user interface. These elements might include instant messaging, presence awareness, multipoint audio and video, as well as integrated document sharing.


Robin Good: What are the main differences between collaborating online and in real life?
Marv Toyer: Online collaboration is still a fairly impersonal mode of interaction. With the advent of faster and affordable internet connections and video cameras, the level of personalization increases. Web conferencing will never replace the face-to-face meeting, but co-exists nicely to strengthen established relationships and broaden the 'reach' of the web conferencing user.


Robin Good: What is going to happen as people become able to talk, see and collaborate online effortlessly and at very low-cost?
Marv Toyer: "Effortlessly" and "very low-cost" are terms that are ingrained in our business and product development culture. We built our business on the premise that usage will increase - approaching that of email and Web browsing -- as the Web conferencing 'behaviour' becomes more prevalent and the price point is below a dollar a day.


Robin Good: What are the functionalities that people need the most when doing a Web conference session?
Marv Toyer: The basic functions that are needed are:
1) simple and secure browser-based access;
2) some form of audio - either via the telephone or integrated voice chat;
3) the ability to share any document or application;
4) the ability to pass mouse and keyboard control to the remote participant for collaboration;


Robin Good: In your opinion, what are the factors that discourage people the most in adopting and utilizing these tools on a daily basis?
Marv Toyer:
1) Cost
2) Usability
3) Security
4) Reliability


Robin Good: What do you think is the most misunderstood concept about online collaboration and how it should be like? (That one thing that if done differently would radically change the way think of Web conferencing or real-time collaboration online.)
Marv Toyer: Most people believe online collaboration is beyond their reach due to either cost or complexity. If you can provide the technology at a reachable cost, and make it as simple as Web surfing - you are on to something very special.


Robin Good: What do you see as being an ideal business and pricing model for future Web conferencing technologies?
Marv Toyer: The ideal business model is an unlimited, full-featured, secure and simple hosted service that includes teleconferencing (or voice chat) and video for under a dollar a day.


Robin Good: What do you think of online meeting spaces as actual buildings, conference centers, classrooms? Do you think carrying over the analogy of physical spaces and their constraints is a good idea?
Marv Toyer: Any paradigm that helps users to understand the concept is helpful - though as the technology becomes more ubiquitous this won't be needed. Experienced internet users no longer think of email or instant messaging as 'sending a letter or note electronically'.


Robin Good: For people meeting and collaborating online is security going to be a critical issue in the near future?
Marv Toyer: Security is always critical. Early adopters of web conferencing were forced to trade security for functionality. Most web conferencing providers - even WebEx and Placeware (Live Meeting) -- serve their customers using 'wrapped' HTTP protocol - which is not secure.
Most hardware firewalls (and soon software firewalls) prohibit or at least restrict receiving streaming (not request/response) content over port 80 - because this is how hackers hack. Hackers don't bother with ports or protocols that might be restricted. Firewalls will eventually make today's web conferencing services - including WebEx and Placeware -- obsolete.
Our solution was using the same mechanism as today's secure e-commerce, email, and FTP services - end to end SSL protocol with 128-bit encryption. Not only is this completely secure - but connectivity over hardware and software firewalls can be achieved with near 100% reliability. We actually guarantee connectivity with any participant on the Web. By specification, firewalls do not (or can not) execute 'rules' on legal, encrypted SSL packets over port 443.
We get 'refugees' from ALL of the other vendors daily - for the simple reason that participants can connect using eBLVD where they were not able to with former Web conferencing services.


Robin Good: In which ways are the SOHO and "enterprise" markets substantially different when it comes to video and Web conferencing?
Marv Toyer: The Internet has significantly closed the gap and levelled the playing field between enterprise and SOHO providers. What matters to large and small market companies alike is that they want an easy-to-use, secure, and reliable service.
The major market difference is that Fortune 500 companies want and choose products and services that other Fortune 500 companies use. This is why WebEx is successful. But when usability, security, and reliability become problems - most companies will look to alternatives.


Robin Good: Are open standards important for the future of Web conferencing?
Marv Toyer: Absolutely - if you want Web conferencing to work across a standards-based platform (the Internet) you'd better have a standards-based product or service that can work within the existing framework of the other major Web apps (email, web browser, e-commerce, etc.).


Robin Good: What do you think is the greatest obstacle to standardization and interoperability of these collaboration tools?
Marv Toyer: The internet and internet applications must be standards-based to work across PCs and LANs. If collaboration tools are built using these standards, they should successfully interoperate.
The biggest potential obstacle is that a single company, say Microsoft, deviates or attempts to control or 'own' the standards.


Robin Good: Can you name three live collaboration tools, outside of your own, that have impressed you the most recently?
Marv Toyer:
a) Groove (for its API model)
b) LivePerson (easy interface)
c) MSN Messenger 6 (new customization features).


Robin Good: How important is in your opinion the type of user interface used for online collaboration tools? Why?
Marv Toyer: The user interface is very important. If the presenter or participant can't immediately use the tool - its value diminishes.


Robin Good: What chances do small companies have to play an important role in this market?
Marv Toyer: We believe that our 'disruptive' approach will continue to win business against our competitors. Eventually it all comes down to whether you can consistently provide a usable, reliable and high-value service.


Robin Good: What do you think has been the major marketing mistake done by Web conferencing companies when it comes to marketing their products?
Marv Toyer:
a) Over-promising
b) Under-delivering
c) Over-pricing
There has been a 'heavy-handed' approach to selling Web conferencing - similar to the way teleconferencing has been sold in the past.
The days of high prices, long contracts, and questionable security, reliability and service are coming to an end.
*******************************
Marv Toyer is the founder and president of eBLVD.com, a California-based business-to-business e-communication service founded in 1997.
A businessman at heart Marv Toyer's experience spans 22 years, including
worldwide assignments in management, consulting, marketing and
information technology. Marv has also been featured as a speaker to the New
York Stock Exchange.


The Future Of Web Conferencing:
Related interviews: