Wednesday, November 26, 2003
The Future Of Web Conferencing: Good Interviews Scott Mule
Sponsored Links
Scott Mule is CEO of Linktivity, a brilliant Web conferencing company which has been bringing to the market a multi-award winning tool, that is truly impressive in terms of sheer performance and features.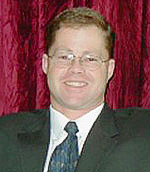 I have long tested and reviewed WebDemo, Linktivity flagship product and have remained very impressed with many of its functionalities. So much so that I included Linktivity WebDemo as a Best Buy solution in the very first release of my (SOHO) Guide to web Conferencing Tools.
Linktivity, and in this respect its key officers, inherit a long and honoured tradition of successful remote control and assistance technologies developed by Linktivity's mother company, Spartacom.
Scott Mule responds with great clarity and simplicity to my increasingly wide barrage of questions and clearly reflects the enjoyable position that successful small companies like his have been enjoying throughout.
Scott Mule uncovers some interesting data that point to the enormous growth that this industry is and will be enjoying and he positively assures that there is much space for everyone to play an important role in this field.
Though Scott doesn't shake most of our given assumptions about the future of Web conferencing his views offer a valuable insight into what appears to be the dominant corporate view in this exciting arena.
Robin Good: Scott, is what we define Web conferencing today going to change much in the coming months and years?
Scott Mule: The definition of Web conferencing is constantly changing as people see and experience the possibilities that Web conferencing has to offer. Today's conferencing solutions offer far greater ease of use and features then just a couple of years ago. The use of collaboration tools are growing at 60-70% per year.
This growth is fuelling the demand of new features.
People want to be able to not only present a presentation over the web but also to share applications, remote control, perform dynamic file transfers, voice and keyboard chat, video conference, conduct user polls and quizzes, and more.
The concept of a multi experience meeting anywhere will become even more of a reality as the growth of wireless and high speed Internet connections continue to grow and business realize the availability of such solutions.


Robin Good: When you think about how people will use Web conferencing tools in the future, what do you see? What will be the main differences from today?
Scott Mule: Today many businesses still view collaboration as a "nice" tool to use but not a necessity. With the dynamic growth of collaboration as an e-Sales, e-Training, and e-Support tool, Web conferencing and collaboration is rapidly become a core business application. Businesses are demanding greater integration of synchronous capabilities in their CRM, LMS, and other core business applications.
Within the next 2 to 3 years, businesses will view their collaboration solution in the same critical view as their website or phone system.


Robin Good: What is going to happen as people become able to talk, see and collaborate online effortlessly and at very low-cost?
Scott Mule: The primary reason behind the creation of the Internet was to allow people to share information and knowledge. Web conferencing and collaboration is merely an extension of the Internet's capability.
Web collaboration allows individual to share ideas and information in real time.
We have already seen a major impact and acceptance of this technology in the corporate sector, in education and also in business as it is used to improve effectiveness of employees while reducing expenses at the same time.


Robin Good: Who is bound to benefit the most from having real-time collaboration tools available to anyone?
Scott Mule: It is safe to say that almost everyone benefited from the invention of the telephone, of the fax machine, and of the Internet.
Real-time collaboration allows individuals a new way of communicating across multiple media. Whether a student is taking a virtual class in another state or country, or a consumer is seeing a live demonstration of a new product, or a business is conducting an online meeting with offices in New York, Tokyo, and London, Web collaboration improves and enhances the way people communicate.


Robin Good: In your opinion, what are the factors that discourage people the most in adopting and utilizing these tools on a daily basis?
Scott Mule: One of the most challenging tasks that we have faced is the education of our customers in their understanding that instantaneous Web collaboration is an affordable reality.
Most businesses understand the benefits of collaboration but feel that it is restricted to only large corporations with dedicated technicians, and large budgets.
When in fact, there are collaboration solutions, both hosted and premise, which can be implemented in about an hour with a return on investment within a month or so.


Robin Good: Many elearning solutions do not use videoconferencing. Some people say because video is not really necessary. Is it true? When and why is video really necessary?
Scott Mule: Video conferencing definitely enhances the overall eLearning experience. With the introduction of low-cost Web cameras and the increase in high speed Internet access, video conferencing popularity is rapidly growing.
Video conferencing can be further broken down into two categories; uni-directional and multi-directional. In the typical eLearning environment, with an instructor and multiple students, uni-directional (students can see the instructor but not each other) video conferencing can strongly enforce learning concepts. Multi-directional video conferencing (everyone can see and interact with everyone) can be beneficial in smaller eLearning groups such as study, focus, or project groups.


Robin Good: What do you think of online meeting spaces as actual buildings, conference centers, classrooms? Do you think carrying over the analogy of physical spaces and their constraints is a good idea?
Scott Mule: One of the primary goals of online meetings is to eliminate the necessity of physical limitations and constraints. The major goal of Web conferencing is to allow individuals the ability to hold and conduct interactive meetings anywhere. It is import to state that we feel that Web conferencing and collaboration will not nor should not replace physical meetings but to supplement them with increasing interaction.


Robin Good: For people meeting and collaborating online is security going to be a critical issue in the near future?
Scott Mule: As with physical meetings there are certain types of meetings that confidentiality is critical and others which open access is desired. The same concept holds true for Web meetings. Individuals and companies are becoming more security sensitive. It is critical that a Web solution can allow both public and private meetings.


Robin Good: In which ways are the SOHO and "enterprise" markets substantially different when it comes to video and Web conferencing?
Scott Mule: In our opinion, SOHO and "enterprises" are not different. Both small companies with 1 individual and enterprises with 100,000 employees can and should explore the benefits of collaboration.
Traditionally, only large companies have implemented Web solutions due to cost and infrastructure requirements but this has changed dramatically over the past 2-3 years. The awareness, ease of use and ease of implementation has allowed smaller companies the ability to implement collaboration solutions.


Robin Good: Are open standards important for the future of Web conferencing?
Scott Mule: Open standards are always double edge swords. The T.120, H.323, and SIP standards are necessary for good operations with equipment and integration with other business applications but usually have lower performance levels (not allowing use of faster proprietary algorithms).
A complete solution should accommodate for both situations.
For example a Web collaboration solution should be able to work with any Web or video camera (not just propitiatory ones) and have the ability utilize propitiatory compression algorithms (when possible) to allow maximum performance.


Robin Good: If you were to define and describe your ideal real-time collaboration tool what would it do and how much would it cost?
Scott Mule: An idea real-time collaboration solution would be:
a) a pure browser based solution (no client installations or configurations) so it could run anywhere,
b) provide all features that "power" collaboration users require (desktop sharing, remote control, file transfer, voice and video, document management, etc),
c) be flexible to allow user interfaces to be easily changed and
d) integrated into my business solutions and applications,
e) be stable and reliable under varied Internet connections
f) and be easy enough the anyone can use (without training).
Businesses are looking for solutions that improve their effectiveness and reduce expenses.
The cost of implementing a Web collaboration solution has dramatically decreased over the past 5 years and the ROI is rapidly approaching 1-3 months.


Robin Good: How important is in your opinion the type of user interface used for online collaboration tools? Why?
Scott Mule: As with any application, if the user experience is not smooth and intuitive, the benefits will never be achieved.
It is critical that a Web conferencing application is as intuitive and easy to learn as possible so that users can be up and running in no time at all.


Robin Good: How does the future of Webex, Centra, Live Meeting and other big enterprise players look to you?
Scott Mule: Microsoft (Placeware) and WebEx have done an incredible job in educating individuals and businesses on the importance and benefits of collaboration.
Businesses today understand it is critical for their future success to implement this technology to remain competitive. But, they are also looking to the best overall solution (cost, functionality, ease of use, ability to own a solution rather than just hosting with an ASP, having greater ease of implementation, best support and customer service).


Robin Good: What are going to be the major obstacles that these companies are going to meet?
Scott Mule: The "big enterprise players" will face strong competition from smaller companies that offer more flexible solutions, better customer service, and a much more competitive price offering.


Robin Good: What chances do small companies have to play an important role in this market?
Scott Mule: Web conferencing and collaboration is a very rapid growing market, with growth in excess of 60% per year.
This market is still a very young market in which many companies can and will co-exist.
Both smaller companies and the current market leaders are necessary to provide businesses with flexibility and choice of solutions.


Robin Good: What do you think has been the major marketing mistake done by Web conferencing companies when it comes to marketing their products?
Scott Mule: The largest marketing mistake done by many Web conferencing companies is limiting the uses of collaboration, as an e-meeting or e-training tool.
Collaboration solutions should not be limited to virtual meetings. Almost all business functions (sales demonstrations, training, remote employee interaction, technical support, vendor collaboration, project management, etc.) greatly benefit from interactive Web conferencing and collaboration.
***********************************
Scott Moule is Linktivity Chief Executive Officer. Before taking his role at Linktivity Mr. Moule's acted as Vice President of Engineering and General Manager of SpartaCom. He has over 17 years experience in the development, sales and marketing of communications, client/server and remote control technologies.
Mr. Moule has a Bachelor of Science in Electrical and Computer Engineering from Florida Atlantic University and advance studies in Management Information Systems from St. Thomas University.


The Future Of Web Conferencing:
Related interviews: