Monday, November 24, 2003
The Future Of Web Conferencing: Good Interviews Keith Teare
Sponsored Links
Keith Teare is the CEO of SantaCruz Networks a relatively new videoconferencing company which builds on the cutting edge development work of former RealityFusion Inc. and its excellent TeamView videoconferencing service. SantaCruz Networks is the videoconferencing infrastructure provider behind Viditel, the actual brand name through which this quality multi-point videoconferencing service is offered.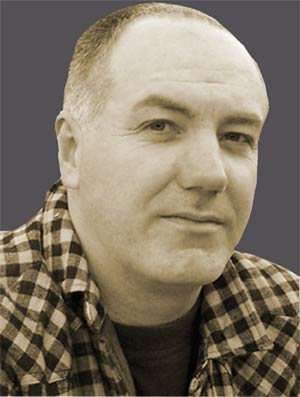 Keith Teare is a man that has involved himself from the start in a number of pioneering projects all geared at simplifying and improving the ways we communicate, collaborate and interact through online communication tools.
Keith Teare is the brain behind many famous Internet projects: RealNames is certainly one most of you will have heard of.
An agent of change, Keith has never been one to settle for the status quo.
Born in Scarborough, England, a working class, seaside town, he made his way through grammar school, then the University and finally on to graduate school, despite - and often in spite of - his socio-economic background and the misguided counsel of elders who didn't think he could make it.
Keith Teare was able to show relatives and friends that he could actually take on some of the most cutting edge entrepreneurial work as well as challenging technical assignments at any level of complexity.
To Keith, life, and work for that matter, are about taking risks, achieving what others say is impossible and creating opportunity for others who might otherwise not have it.
Keith Teare reflects very much his attitudes in this interview, as he is extremely generous in providing some really illuminating answers to what the future of Web conferencing has in store of us.
Undoubtedly and unlike many others in this industry Keith Teare has an organic, comprehensive and user-centered vision of what online collaboration is all about. The fact that his technology is one of the best software-based tools for multi-point videoconferencing makes his ideas all of the more credible.
If you are interested in reading some very eye-opening thoughts about the future of web conferencing and online collaboration, this is an interview you will enjoy.
Keith Teare's favourite movie is "Pleasantville" - a movie that celebrates taking risks and stepping outside the norm to make lasting changes in the world. Just like him.

Robin Good: Web conferencing or video conferencing? Where do you position yourself? What is the difference between one and the other?
Keith Teare: I think that the idea of "web conferencing" and "video conferencing" will both soon be outdated ideas. We are seeing a tremendous change in the way people communicate. Both the service provider and the type of service are changing.
Instead of plain old telephone companies supplying all communication needs we are beginning to see Internet Protocol based communications take some of the budget for the category. Web Conferencing is one beneficiary of this - companies like Webex and Placeware(now Microsoft Live Meeting).
Video Conferencing is another - Polycom being an example. Voice over IP companies like Vonage are another beneficiary. However, as IP networks get better and the data types that they can carry get richer, communications (voice and video) and collaboration tools (data) are going to merge into a single, IP based, platform. VVD over IP (voice video and data) is the end point.
Users will be able to talk, see and view others in whatever combination is appropriate for a call. All of this will sit on top of a presence and messaging infrastructure that allows us to know when and where the people we want to meet with are online.
So Santa Cruz Networks is neither Web Conferencing nor Video Conferencing.
We are an enabler of a new rich communications platform, allowing service providers to deliver VVD over IP to their customers. This will include both video and voice communications, with data sharing, in a 1-1, 1-many or many-many architecture, and in real time, anywhere in the world.


Robin Good: Who are the people that use video/Web conferencing the most?
Keith Teare: The early adopters of video and Web conferencing are teams of employees within enterprises who typically have to work as part of a team even though they are not in the same office, or even city or country.
These are typically management teams, Boards of Directors, Sales teams and business development teams. Increasingly it also includes remote teams of programmers - often offshore.
A second group of early adopters is in the educational community where remote participation in lectures and seminars is a growing phenomenon.
Finally, there are many computer literate young people who have evolved from instant messaging, through voice over IP to full VVD over IP as a way of keeping in touch with friends and family.


Robin Good: In your opinion, what are the factors that discourage people the most in adopting and utilizing these tools on a daily basis?
Keith Teare: The main barrier to using these tools has been the availability of software that actually works.
Much of the video and messaging software was built using standards from the fixed wire telephone networks. These standards are hard to deliver on the Internet, which unlike fixed wire, has varying bandwidth available to an application. Another consequence of this fixed wire legacy is that most applications are for one-to-one calls. This is really not enough for business use. Imagine - would you buy a telephone system that prevented you from being on a call if it had more than 2, 3, 4 or 5 people. Of course not. A communications system needs to be ubiquitous and unconstrained. The phone system succeeds by these criteria. So a VVD over IP network needs to be unconstrained too.
So far no IP based software has been able to deliver that unconstrained service at quality. Hence the rather restricted use.
With broadband networks and 3 Gigahertz processors, that problem is going away. We can deliver, in software, amazing voice, video and data sharing solutions, at the desktop or in the home.
Ease of use is a second area where, so far, the best solutions were hard to use. It was necessary to go to a special room for a video conference, and it often just didn't work. With IP based video and desktop software I believe that difficulty is now a thing of the past.
Finally cost. To become a service provider of communications a company would have needed to invest millions of dollars. Perhaps even tens of millions. Today, companies like ours can deliver rich communications over IP networks and the cost to do this - as a service provider - has dropped to below $50,000 for a business that can initially support a couple of thousand subscribers. The end user might pay only a few dollars a month for unlimited voice, video and data sharing communications. That removes many barriers to entry.
So, performance, ease of use and price seem to me to have been the key barriers. They are all going away, or have already gone away.


Robin Good: Many elearning solutions do not use videoconferencing. Some people say because video is not really necessary. Is it true? When and why is video really necessary?
Keith Teare: This isn't really about video. It's about reproducing as natural a learning experience as possible - at a distance. Video is an aide to that. It won't make a difference if the course materials are poor or the teaching is not good. However, as a complement to a well-delivered learning experience video is fabulous. You can see gesture and facial expressions, and detect nuance, and by so doing, gain clarity on the intent of the teacher or the pupil.
Would a phone or radio delivered class be as good as attending one in person?
Is attendance necessary - no, but it sure helps.


Robin Good: How do you see the whole online collaboration and conferencing industry evolve in the future?
Keith Teare: I believe that online collaboration and conferencing will not survive as stand-alone companies.
The communications infrastructure we know today is going to evolve rapidly to a point where collaboration tools and conferencing are just free features of a communications suppliers offering.
Most of the conferencing and collaboration companies we see today will either be bought - for their customers or their technology - and others will go out of business.
Real Time Communications service providers will subsume them.


Robin Good: When you think about how people will use Web conferencing tools in the future, what do you see? What will be the main differences from today?
Keith Teare: The primary difference between Web conferencing today and the short-term future is that today Web conferencing is primarily a one-way experience.
A lecturer delivers a presentation to an audience. It's mainly a 1-many experience. Very soon this will evolve into a fully interactive experience where the audience can play a full role in a meeting, being seen, heard and even sharing their own documents.
True collaboration will then be possible, just as if everybody was in the same room, sitting around a table, interacting.
The tools will no longer be stand-alone tools.
You will start a meeting, from your computer. You will select who to invite to the meeting from your address book - either individuals or groups. You will start the meeting and use whatever materials you have prepared from within the same interface you began the call from. You will not have to "upload" materials ahead of time, or convert them. Simply loading them on your screen and sharing them with one click will be sufficient for all to see them.
Integrated applications, allowing all media to be shared in real time, from a single interface is a very different world from the one we know today where there are different applications for voice, video, application sharing, instant messaging and presence. A fragmented world will change into an integrated one.


Robin Good: Without going into promoting your own great technology, would you be willing to name three other real-time collaboration technologies that have seriously impressed you recently?
Keith Teare:
1) The Nokia 3650 cell phone.
2) Text America with its real time uploading of cell phone pictures to textamerica.com.
3) Apple's iChat application and iSight camera - although it's beautiful it is only for 1-1 calls on good bandwidth.


Robin Good: Do you think that in one year from now we will see drastic improvements in what we can do with these technologies? Can you give some examples?
Keith Teare: Most of the primary improvements from my company are available today.
However I do think the mass use of IP based communications will lead to more ubiquitous distribution over the next 12 months.
Along with this consumer services and better video-phone devices will become available at price points that are affordable to all broadband customers. The use of the phone will decline in proportion to the rise of the IP based services.


Robin Good: What do you think is the most misunderstood concept about online collaboration and how it should be like? (That one thing that if done differently would radically change the way think of Web conferencing or real-time collaboration online.)
Keith Teare: The most misunderstood thing is the idea that Web conferencing is poor quality and hard.
If people could see how easy and inexpensive it has become, whilst being really good quality, they would not have second thoughts.


Robin Good: What do you think of online meeting spaces as actual buildings, conference centres, classrooms? Do you think carrying over the analogy of physical spaces and their constraints is a good idea?
Keith Teare: I do not believe the future communications world will need to be bounded in the same way as a physical space.
However I do think that software will look and feel different based on the goal of a call. A voice only call, a voice and video call, a voice and data call, a voice, video and data call will all have their roles to play and user interfaces will morph according to the type of call one is on.
In this way a 1-many lecture with thousands of attendees, watching the teacher video and hearing his voice will look and feel very different to a 1-1 voice call between a client and an attorney. Both, will however, use the same network software to deliver these varied experiences.


Robin Good: For people meeting and collaborating online is security going to be a critical issue in the near future?
Keith Teare: Security, as always, is a symptom of the insecure times we live in.
Fully secure VVD over IP is here today so this shouldn't be a big issue. A bigger issue may be that it is so secure that the authorities cannot "listen in".
For example, we use 128 bit encrypted data for all calls - voice, video, data, messaging and presence. It is not possible for these to be decrypted in real time.


Robin Good: How do you think that people will manage identity and authentication when video-meeting a remote doctor or a lawyer?
Keith Teare: I think we will all begin to use our email address as our universal "phone number". This address will be secured through existing authentication schemes. The email address will begin to be the center of our identity and we will begin to add additional features of identity management to it. So if you call keith@santacruznetworks.com you can be sure it is me who will answer, and if I call you, you can be sure it is me.


Robin Good: In which ways are the SOHO and "enterprise" markets substantially different when it comes to video and Web conferencing?
Keith Teare: Today they are very different in that there is not a genuine SOHO market. And the enterprise market is small due to the failed expenditures on video conferencing solutions during the past 10-15 years. Most enterprises feel sure that video conferencing doesn't work, because in the past it hasn't worked too well.
As we move forward the Web conferencing companies have begun to deliver collaboration into the enterprise. That is still a small market, but it has persuaded enterprises to look to expand their use of IP networks to reduce costs and drive efficiency and productivity. In this climate, the next generation of communications and collaboration tools has an audience in the enterprise ready to look and listen. People are beginning to buy.
This is going to accelerate as enterprises begin to understand the ROI consequences of moving to a fully IP platform for communications - first internally and later externally.
Imagine, no call costs between employees, worldwide. No more conference call bills. No more web conferencing bills.
Putting a couple of boxes in your network and deploying software communications applications to your employees is all it will take.
In the SOHO market there was no negative past to escape from, but there was a high cost of entry. With that cost coming down the SOHO market will begin to blossom in 2004 and will actually grow faster at first than the enterprise market. The absence of legacy systems is a big reason for this.


Robin Good: What do you think is the greatest obstacle to standardization and interoperability of these collaboration tools?
Keith Teare: The biggest obstacle to standards is the domination of the standards process by the ITU and the legacy telephone companies.
They have a huge interest in getting the world to focus on interoperability between the old world and the new IP based world. This is a huge social error and will slow down innovation and progress.
The fixed line networks need to be written off over the next several years and the new IP communications infrastructure should be free of it.
If that happens then new standards for VVD over IP will emerge more quickly and deliver better services to customers.
Those of us in the IP communications business have a responsibility to the future to not allow this to happen, and to develop new standards quickly. One key area here is multi-point VVD over IP. Most of the IP communications standards - like SIP - are only focused on 1-1 interactions.
Surely we don't want a world where in order to talk to more than 1 person you have to pay AT&T conferencing $1.20 a minute per person!


Robin Good: What do you think has been the major marketing mistake done by Web conferencing companies when it comes to marketing their products?
Keith Teare: The main mistake is to call it Web conferencing. In the narrow sense, sharing a document with a group of people in an application is just a minor innovation. IP Communications is a far bigger opportunity. Investors, users and employees will be all more motivated if we understand only this.


Robin Good: What chances do small companies have to play an important role in this market?
Keith Teare: A huge chance. Nobody has yet exhausted the potential of this space, and it adds so much to the human beings ability to innovate and cooperate.
The big companies are so preoccupied with protecting their past investments in legacy infrastructure that only a small company is going to have the degrees of freedom to innovate rapidly using the technology we have today but did not have yesterday.


**************************************
Keith Teare is CEO and Chairman of the Board of Santa Cruz Networks Inc. A sociologist by education and a technologist by nature, Keith married these two seemingly contradictory passions in his business endeavours.
In 1994, after discovering the benefits of the Internet and Web browsers, he co-founded EasyNet, which is now one of the largest ISP's in Europe. for which he then became CTO, responsible for managing all of EasyNet's networking and routing systems. He also developed an end-to-end payment system and an online dating service. A consummate entrepreneur, Keith Teare also developed the first real time Web portal - Channel Cyberia - well ahead of its time, which eventually sold content to MSN.
Keith Teare earned a master's degree in sociology, and a bachelor's degree, with honors in political science and sociology, from the University of Kent at Canterbury.
Reflecting his diverse background and his interest in sociology, Keith is also the published author of two books: "Under Siege," which is about racism in Britain; and "The Easy Net Book", about the Internet and its impact on society.
Keith writes his own personal weblog at http://weblog.teare.com/ and enjoys music and the arts as few others in this group.


The Future Of Web Conferencing:
Related interviews: