Saturday, November 8, 2003
Google Launches Its Own Mini-Browser Under Disguise: The Google Deskbar
Sponsored Links
Google Deskbar
http://toolbar.google.com/deskbar/

= must have
Desktop tool (Windows ONLY)
FREE
Called the Google Deskbar here is the latest useful addition to your set of powerful research tools (still in beta).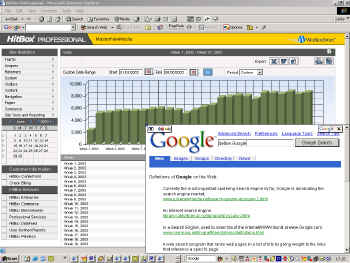 Search the whole Web using Google and without opening your browser!
Specific features:

Search using Google, even when your browser isn't running

Preview search results in a small inset window that closes automatically

Access Google from any application by typing Ctrl+Alt+G

Use keyboard shortcuts for multiple Google searches, i.e., Google News (Ctrl+N),Google Images (Ctrl+I), or Froogle (Ctrl+F)

The new Google Deskbar adds a little box to your Windows taskbar (the one normally sitting at the bottom your screen) and makes it possible for you (given that your connection to the Internet is open) to search through Google without having to run your preferred browser.
Download is only 430 KB and installation is very simple. Guided by a simple wizard incorporating clear animated instructions, you can download the Google Deskbar and get it installed in less then 5 minutes.
One of the most powerful functions embedded into the Google Deskbar is the ability to get to it from anywhere by simply pressing Ctrl+Alt+G.
To make searching as easy as possible, you can use this shortcut from
anywhere on your desktop.
But wait:
Not only your cursor moves instantly to the Google Deskbar, but it also copies any selected text or clipboard data into the search box automatically!
An array of eight shortcuts, allows you to easily switch from standard search to images search, to news search or to the thesaurus. Extremely effective.
The Deskbar shortcuts prove also to be very handy in facilitating my access to the recently added "Define" Google function with a simple and easy to memorize Ctrl-D key combination assigned to it.
Search results
After you start a Google Deskbar search a moderately sized search results window pops-up on your screen. This window is called the mini-viewer.
Inside the mini-viewer you can also increase or decrease the font size of the search results text. The choices are smallest, small, medium, large, or largest.
Shift-F1 is a powerful shortcut associated with the Deskbar which allows you to instantly call-up the mini-viewer with the last set of results you have received.
When you click any search result the requested Web is displayed INSIDE the mini-viewer, unless you Shift-click the search result (in which case a separate standard browser window opens on your desktop).
The mini-viewer is also equipped with a set of simple controls which allow you to easily push any Web page being viewed in the mini-viewer into a full browser page view.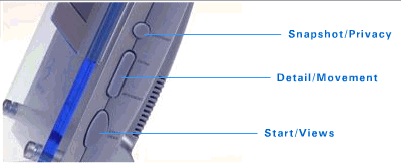 The mini-viewer acts as a little browser and it sports a handy pair of forward and backward buttons allowing you to easily go backward and forward among your search results. (Something quite unachievable under normal circumstances in your typical browser.)
It is possible to run the Google Deskbar NOT in the Windows taskbar but as an independent floating mini/application on your desktop. Read how to here.
It is interesting to see that any search query or result can also be easily fed into an online weblog (blog) as clearly indicated here.
A number of very powerful facilities is also hidden inside the Google Deskbar Options menu, which provides access to many dedicated controls.
In particular one can set behaviour, display and controls for the Google Deskbar mini-viewer through a number of well organized tabbed choices.
The customized search function is particularly powerful as it allows you to preset Google Deskbar searches to specific sites, intranets, restricted areas, or even to create a simple shortcut to call up a specific Web page in the mini-viewer.
Possible issues
a) The Google Deskbar requires Internet Explorer and Windows to run.
b) Privacy issues should not be of concern as anyone installing the Deskbar can opt out of reporting some statistical data to Google and referring to the functions most used in your daily search queries with it.
N.B.: Happily, the Google Deskbar does not automatically update itself, but you can choose to install the most recent update at any time.


Some initial public comments left at Google Deskbar Forum:
> I know I'm in the informed minority here, and I don't know the
> > alliances you have struck, but for the now revered Google to mandate
> > the use of IE, reinforcing the use of the so flawed MS product, and
> > ignoring mac & linux etc. totally, is disappointing.
> >
> > I hope to see better.
> Would be nice if the google taskbar will open the pages into another
> browser choosen by the user.
> So my favorite is Opera/Mozilla instead of IE.
> Didn't found anything to choose favorite browser.
> deskbar is great - but i cannot navigate to sites listed in the
> results, either via the mini viewer or launching a new browser. I can
> navigate all the google site in the mini viewer but nothing else. I'm
> running XP sp2 with IE 6.0 set as default browser, any ideas what i'm
> doing wrong?
>It appears that the deskbar looks at your google cookie and if you
>have set "Results Window: Open search results in a new browser
>window." in your STANDARD Google preferences, it dosen't work. Go to
>the Google Home Page click preferences and turn it off to test this
>theory.
http://www.google.com/preferences?hl=en
(By the way 'cached' never obeyed the 'open in a new browser window.)
>I tested this theory and you're right. I turned off the "new window"
>option in my regular Google preferences and all of a sudden, clicking
>on the mini-viewer's search results opened IE as you would expect and
>went to the clicked page. This worked both for the real page and the
>cached page.
>It's still a bug that would be worth getting rid of, since it's a
>shame to have to give up the new window option in regular Google.


My personal comments:
Contextuality is again the secret, unmentioned word.
Disappearing seamlessly in the background is the other winning powerful strategy for all core complementary task supporting facilities from search to sharing, showing and collaboration.
Ubiquitousness makes accessing and using any function a breeze. That is how I would like to operate with any core tool.
And Google has got them right.
Kudos Google for an excellent tool.
Is not working :(
May be something wrong with my proxi options?!
---
I loved the google deskbar that I had before my computer crashed. It would perform searches in a little mini-browser window without opening a full browser. Now, every time I put a search into this so-called
---
Why, oh, why can't I get and keep the Google Taskbar--not this damnable Deskbar but the easy and clever little window that goes into the task bar across the bottom of the screen??? That's all I want. I don't want all those dad-gum bellsw and whistles stuff or an inventory of the files on my computer. I know where my stuff is. I don't want all that clock and news stuff.

I just want (weeping now in frustration) that simple little wonder called the Toolbar that Google first introduced. Just that, please, dear God, just that!!! And I find that the Web returns for your site promising this--but it is a lie. All you offer for download is that horrible monster Deskbar. Each time I spend hours finding the Toolbar in some obscure corner of the Web and install it, within weeks somehow it gets its .exe removed and it stops working.

Sob sob sob sob sob.....
---
It's using an ie plugin that's why it requires ie 5.5. To prove it, right click on the window when a seach has happened, look at property information for the page, now do the same thing in ie. Exact same property window.
---
Mark,

it is Google that says it:
"The most likely reason for installation problems will be that your system does not meet the system requirements of Windows 2000 or XP and Internet Explorer 5.5 or later."

http://toolbar.google.com/deskbar/help/faq.html

Get your references straight if you want to be a credible Google guide.
---
Ou said that the Deskbar requires Internet Explorer. Actaully, it does not--I'm using it with Firefox. Since the deskbar goes into the tasbar, the brwoser type makes no difference.

www.googletutor.com
---
How to use Google Deskbar with a proxy server?
---
Please give us a way to eliminate the background image from the search box and also hide the button. I love Google but don't like obligatory branding.

Thank you,

AT
---
the look of the google deskbar is very old , it does not match with the WIN XP.
Pls. improve its looks
---