The Future Of Web Conferencing: Good Interviews Jeff King
Sponsored Links
I would like to introduce my next guest by mentioning the fact that his company, WaveThree Software, is one among very few cutting edge operations that have been able to bring to market a killer software-based cross-platform videoconferencing solution that is impressive in terms of quality, performance and competitiveness with traditional hardware-based proprietary videoconferencing systems.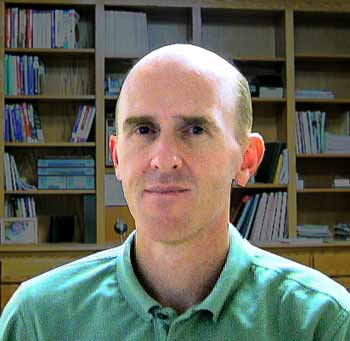 From my personal experience and extensive testings only three companies can claim today to be able to provide effective videoconferencing, complemented by effective collaboration facilities, with performance results on a par or close to what is offered on system costing 10 or 100 times more.
Jeff King is the industry man in the front line, the pioneer explorer that has been cutting new jungle trails where no other one has gone before.
His view is one of a technical man, that needs to use collaboration tools on a daily basis. Jeff doesn't speak from a comfortable management chair but from the actual trenches of those that challenge the technological status quo by pushing the limits of what is possible to achieve on a daily basis.
Jeff King is also a man that is capable to look beyond the immediate economic interests of his company and into the potential of greater interoperability and open standards for the immense benefit all Internet users.
But I leave it to him, to be the one to add one more puzzle piece to the large overall picture I am trying to build for you. The picture of the future of Web conferencing according to those that are making Web conferencing a true, fascinating and rapidly unfolding new communication reality.
Robin Good: What kind of tools do you think we will see in a year from now? And in three?
Jeff King:
Shorter Term: Software based solutions offering real time, platform independent, IP communication applications that include integrated audio, video, presence, IM and rich data collaboration/sharing functionality.
Solutions providing both point to point and group conferencing models based on existing and emerging IETF standards (read SIP).
Integration with existing contact and scheduling applications. Other participants easily reached via point and click. Integration with PSTN. (Wave Three Software already offers much of this functionality today.)
Longer Term: Wider scale deployments and acceptance of SIP based voice/video/collaborations solutions. We will continue to see increased computing resources available in desktop, portable and handheld devices. This together with continued advancements in codecs, networks and industry standards should create an environment for ubiquitous integrated communication and collaboration functionality.
We should begin to see rich presence functionality such as automated location services (ALS) which will provide the ability to offer/deny features based on geographic location. We should also see improved security mechanisms ... and I would hope vendor interoperability. (perhaps this is looking through the Utopian crystal ball).


Robin Good: What do you think is the most misunderstood concept about online collaboration and how it should be like? (That one thing that if done
differently would radically change the way think of Web conferencing or
real-time collaboration online.)
Jeff King: There is still a belief by many that online collaboration requires expensive special purpose dedicated hardware/software solutions when in fact this can be accomplished with cost effective software based solutions running on standard desktop and portable computing platforms.
Perhaps more significant is the perception that online collaboration is not simple and natural enough. It needs to be as easy as placing or receiving a phone call.


Robin Good: In which ways are the SOHO and "enterprise" markets substantially different when it comes to Web conferencing, live presentations and real-time collaboration?
Jeff King: The enterprise space typically has a different set of security policies than encountered in the SOHO environment. How server based solutions are deployed are also looked at with a different perspective.
Other issues typically encountered in the enterprise environment concern integration and interoperability with existing infrastructure components.
For example: How will the solution integrate with my existing SIP components?
Can I leverage my existing directory services?
Will this interoperate with legacy communication products?
Another difference often found between these two spaces is WAN bandwidth.
And of course cost sensitivity is always an important factor between the two environments.


Robin Good: How do you see the future of small companies developing Web collaboration products?
Jeff King: Real time communication/collaboration is still in it's infancy. There are still opportunities for small companies to influence this market.
Small companies have a great opportunity to be responsive to customer requirements and are often more agile in quickly implementing features and developing innovative solutions.



Robin Good: Can you describe your ideal dream conferencing/collaboration system in its main characteristics?
Jeff King:

Easy to use
Cost effective to allow ubiquitous use
Cross platform
Standards based
Interoperable with other vendor standards based solutions
High Quality Video and Audio
Application Sharing
Rich Media Whiteboarding
Audio and Video CODEC agnostic
Easy Firewall/NAT traversal
Strong security and authentication mechanisms
Rich Presence and IM
Clickable dialing
Interoperability path to legacy systems
Integrates with existing infrastructure
Integrates with existing networks, including the PSTN
Easy conference scheduling
Integration with existing calendaring and scheduling applications
Support for both Synchronous and Asynchronous models



Robin Good: Is Microsoft bound to become a key player in this industry?
Jeff King: With their stake in Groove, purchase of Placeware and their recent release of LCS, I don't believe there is much question about their intentions.
The opportunity for other companies in the space lies in establishing interoperability with Microsoft products and in dedication to cross-platform functionality.


Robin Good: Where do you stand in respect to Microsoft DRM strategy, TCPA/Palladium and their restrictions on interoperability of MSN with other instant messengers and collaboration tools?
Jeff King: Microsoft, AOL and Yahoo have closed their consumer based systems to maintain their communities of interest.
This is different than the Enterprise productivity and collaboration tools like Windows Messenger. MSN, AOL and Yahoo will have to determine the direction for their consumer based communities.
Wave Three is dedicated to interoperability with the Enterprise solutions, including Windows Messenger and Wave Three has already demonstrated both audio and video interoperability with Windows Messenger.
If I might address a slightly different topic and that is with respect to IETF standards compliance. Since Microsoft is supporting the SIP protocol with LCS, I would hope for compliance with published standards.
I would suggest that compliance with SIP based protocols will play an important role in the future ubiquitous use of IP based video, voice, collaboration and conferencing solutions.


Robin Good: What do you think are enterprise Web conferencing companies biggest marketing mistakes?
Jeff King: I think customers want solutions that are based on standards.
Standards based solutions allow the customer to implement vendor independent solutions.



Robin Good: This is not a rhetoric question nor a marketing hook. If you were to study, research or find out more about alternatives to "enterprise" technologies for Web collaboration to which resources or contacts would you turn to?
Jeff King:

Trade magazines
Web Search Engines
Your Web Conferencing Guide




**************************
Jeff King is vice president of operations at Wave Three software, a software-based videoconferencing solution provider based in San Diego California. A design engineer, project and operation managers, Mr King has previously worked for Design Analysis Associates and IBM. Mr King is also the recipient of patents on intelligent fiber optic transmitters and receivers.




The Future Of Web Conferencing:
Related interviews: