Wednesday, October 29, 2003
Direct, Effortless Files Sharing: The Invisible FTP Is Called "Tokens"
Sponsored Links
Creo Tokens
http://tinyurl.com/szfa

= interesting, promising
Software Tool (Win & Mac)
Free for recipients - $49 for creators
Last night I received an email that stroke my attention and fed my interest for the new and useful.
A little masterpiece of PR work, the email, which I have copied below in its full length, shows how much Cluetrain was right about the need to talk to customers in a direct, sincere, true uncontrived human voice.
Mike Lemmons, or whoever does it for him, has perfectly understood that I have no interest for another press release or industry news announcement. I am full of those. If I see one, I delete it.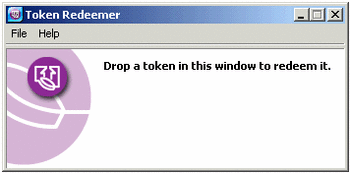 So, not only Mike/Creo get my undivided attention for more than a full page of email text, but they provide an interesting new solution without wasting my time, resources and energies in hyping up a simple, true story, of how a real problem can be easily resolved with a new, simple and innovative solution.
Hats for this effective PR effort and kudos for a great idea called Tokens.
Though Tokens will not be a godsend for those who may need it the most, that is people on slow dial-up lines, this new technology solution presents itself with all the right credentials to be a truly useful application for a great number of non-technical users (the majority of us) wishing to achieve the ability to send large files with maximum ease of use and greatest comfort.
The idea behind Tokens is very simple and to my initial inspection effective.
You still need to have a relatively good connection (56 K and above) to seriously entertain the idea of sending multi-megabyte files to someone else as, given those bandwidths, ease of use or not, the time to transfer a very large file remains essentially the same.
While Tokens can certainly keep throttling through your ADSL/Cable line in the background while you are working on your new report, it is unlikely that this situation reflects the expectation of the dial-up user, which is generally very time-conscious of its connection to the Internet and does not normally accept easily the idea of having open Internet connections running in the background for long periods of time.
So, given the above, I see Tokens as an excellent solution for those that, while already having a serious Internet connection (56 K and above) need to frequently send large files to colleagues, team-mates or friends that:
1) have no familiarity and sympathy for FTP,
2) are unaware of the latest cutting edge online collaboration tools such as Groove, Tenix, Neoteris, PeerFTP Private File Sharing, Splooge, BigSpeed, VXNet or any of the many other P2P file-sharing tools not geared to serve only the music sharing crowd.
3) wish not to learn or adopt another new technology that is more complex that doing a drag and drop operation
for all these people, and especially for those that:
a) frequently bump into YahooGroups 5MB file size limit for files that can be uploaded to YahooGroups Files areas,
b) create artwork in Photoshop or other graphic application and are uneasy sending large attachments to their clients
c) have large product demo files that they have to distribute to new prospects and potential customers
d) need to exchange collection of image files or music clips with selected others around the world,
Tokens does provide a reliable, cross-platform, secure and simple to use file-sharing solution that is worth trying out.
It may not the only, it may not be the best, or even the most cost-effective one (please see the end of this article for a true free alternative), but it certainly is the best one for all those non-technical people who wish to be able to share files easily and transparently with their peers and friends without adding any new tech-know-how or skill to their present baggage. With Tokens they anyone can be up and running in 5 minutes flat.
Here is the wonderful PR story I got from Creo and leading me to download and test this new technology out and some interesting extra info right after it. Enjoy:

Although it's been 34 years since we sent a man to the moon, it's still surprisingly difficult to send large files over long distances - at least if they're over 2MB. That's all about to change...

Sometimes it's the little things.

I recently needed to get a special build of Six Degrees to a customer. They needed it yesterday. This was important, and Fedex was absolutely positively a day too slow.

But even when compressed Six Degrees is about 16MB - not that big, but big enough to rule out simply attaching it to an email. Most mail servers filter out attachments larger than 2MB, and also filter out executables. What's worse, sending 16MB as a mail attachment would be just plain rude. FTP seems like a good choice, right?

Not so fast.

Four people, two hours, and ten messages later, my customer is no closer to their product. FTP has a certain complexity about it that can defy the efforts of mere mortals to exchange files.

I don't know whether to laugh or cry when I realize that it's now much easier to illegally "share" the entire musical works of Seal from a perfect stranger than it is to send 16MB of critical data to a longtime business associate. With all the emphasis on file sharing in the news, none of it is really about file sharing. It's about music.

Directed, effortless files sharing is what I need, but the only examples of this working well involve music.

But I can't eat music. I eat, drink, and breathe software, products, and customers, and I need to connect my customers with my software right now, with one click.

That's where tokens comes in...

For the last two years, in parallel with our efforts to develop Six Degrees into a full-blown email-driven project management solution, we've been hard at work on a companion product dedicated to email-driven file-sharing. The idea was simple.

Make it possible to send huge files, entire folders - even entire projects - with only one click necessary to send or receive the files.

Make it work cross-platform.

Make it integrate with Six Degrees, but make it stand on its own.

Make it truly secure, but also very flexible. This meant providing built-in, as needed compression and 128-bit AES encryption.

Make it work pretty much like sending an email or IM attachment, but without the limitations.

Oh, and make it work cross-firewall.

And make it like PDF in the sense that there is a free reader so that anyone can receive files, period, because the free token redeemer works all the way back to Mac OS 9.0 and Windows 95.

And make it scaleable, so that if I want to deploy it for workgroups I can install a server version.

Make the server super simple, so small workgroups will have no problem running it.

Make IT love it because it reduces attachment bloat on their mail servers.

Make sharing files from laptops easy with the server, because the server stores the files en-route to the recipient.

And add a "world-peace" button that...

Ok.

So it takes some time to fulfill such a tall order. With the exception of the peace button, I'd like to introduce Creo Tokens

Enjoy!

Mark LemmonsDirector,
Creative Software Group
Creo
In simple words, Tokens is a file-sharing solution for large files or folders that are otherwise too cumbersome to send via email.
It removes the current barriers of sharing files: size restrictions, password requirements, heavy infrastructure and couriers.
The Token Creator simply creates a 'token', which is a shortcut or alias of your source file. This tiny file (.tkn) is just a few KB, regardless of the original file size. Anyone you send a token to can then download the free Token Redeemer and access the files with one click.
Creo Tokens are also secure as all files are encrypted with a full 128-bit AES prior to their transfer.
Overall, I fully share the statement from Creo that nicely sums it up:
"Tokens combines the ease of email attachments with the flexibility of FTP."
There are three components in the Tokens software:
1) the Token Redeemer is used by the recipient to locate and download the file or collection of files. It is available free of charge from the Creo Web site.
2) The Token Creator is required to create the Token that is emailed to the recipient. The Creo Token Creator costs USD $49 and is available at http://www.creo.com/global/products/ software_solutions/creative/tokens/. The Token Creator license includes a one-year Creo Relay Service that ensures files can be received across firewalls.
3) The Creo Tokens Server which provides workgroups and enterprises with the flexibility, control, and ease-of-use they require when deploying Tokens. The Creo Tokens Server costs USD $595.
The Creo Token Redeemer is free for all users to download and use.
A free trial version of Tokens software, including both the Redeemer and Creator, is available for download on the Creo website. It allows users to try the full product features and experience the benefits of Tokens at no cost for one week.
Information about the availability, volume license pricing and support policies is available online on this page.
N.B.: It is worth of note, that while with different system requirements and characteristics at least another tool exists on the market claiming Tokens same core functionality and approach. The application called FileCourier does not require recipients to have any application at all (Tokens requires the free Redemeer). A free trial is available and the service is provided on a monthly basis starting at $ 9.95/month.
From a security standpoint I note that both solutions use a centralized hosted secure document server which sits between you and your recipients. Personally, I prefer solutions that allow me direct, straight connection to my recipient without any mediation or relay by other servers.
Overall, it is also important to remark, that this is NOT a solution at all for those that are on very slow dial-up lines and want to transfer large files to someone else. Once again, the timing required to complete a file transfer with Creo Tokens or with a traditional FTP application is not substantially different.
Yes, the process would be simpler, but then again, why do we need to use an FTP tool when any browser has an integrated drag and drop ability to do FTP file transfers to any server?
You didn't know that?
Try it out yourself.
Set an FTP folder on your server with your preferred FTP application and make sure you give full rights for "read" and "write" access to anyone.
Upload AND download any selected files into that space by simply dragging and dropping any file from your desktop or your Windows Explorer window into the FTP window open in your browser.
It is as simple as that.
Here, with the help of Mihai Bocsaru, I have setup an FTP folder on my server with those very settings.
Copy and paste this URL in your browser and then try to drag and drop files into that window.
Again, you can both drag out files from that window onto your desktop to download them, or you can (while keeping your browser window not fully maximized) drag any type of file from any other window or the desktop into the FTP window and fully upload your files in the simples method possible.
Evidently, you could also password-protect this folder while maintaining all of the above functionalities.
Here are the steps to follow to easily create your public/private FTP area, that requires only knowledge of drag and drop to be used by your customers or team-mates:
1. You can set-up a new FTP folder on your hosting provider account (assuming you have at minimum a Web site and an account for a hosted virtual space somewhere) by using their basic control panel. I use Pair.com, which I highly recommend, and these are the settings that I need to turn on there.

2. I can alternatively use SmartFTP or any other free FTP utility to log on onto my server account and then to create an FTP folder as follows. Step one is to create the FTP folder.

3. Step two is to access the Settings controls:

4. Step three is to adjust the settings as to allow anyone with read and write access privileges to that FTP folder:

5. Now anyone using Windows Internet Explorer can go that FTP url and simply drag and drop files either from or to that very folder. Simply keep your FTP browser window unmaximized and drag into it any file you have on your desktop or in any other open folder.
If you want to try this on your own without having to create an FTP folder on your server, I have prepared a sample folder for you to check out.
Please go to: http://tinyurl.com/6psot
Just click the above URL or cut and paste it into your browser address bar.
This is what you will see:

This is an FTP folder, set up on my server as I have indicated above.
Now try to make this browser window occupy only a part of your screen so that you can see the desktop next to it.

Now drag and drop a file from my FTP folder to your desktop.
If you are using Microsoft Internet Explorer try also to drag a file from your desktop to my folder to upload it. (Please be nice!)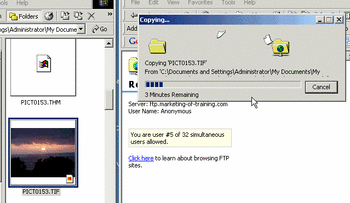 That is all there is to it!
N.B.: If you or your colleagues are using a browser that is not Internet Explorer fine. Keep in mind that you are limited to the download functionality only. That is you can drag files from that window and download them to your computer but you cannot upload files to that FTP folder by dragging files into it.