Tuesday, October 28, 2003
Data Transfer Speed: How To Test Your Internet Connection Speed
DSLReports Speed Test
http://www.dslreports.com/stest

= must have
Online Service
FR^E
As I am frequently meeting people online inside virtual meeting spaces and educating many of them to the potential available to them when utilizing these new technologies, I often need to find out how good actually is the Internet connection on participant's computers.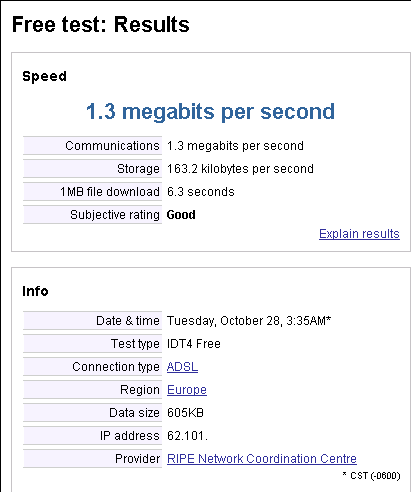 Until not long ago I used to rely and recommend the free online speed testing service provided by Badwidthplace.com, an historically great, full featured and reliable service measuring accurately your connection speed and download pipe from the Internet. Bandwidthplace, celebrated by a never decreasing popularity of its free tool recently closed down the service, which while brought hundreds of visitors to its site did not convert them into paying customers.
Before noticing that Bandwidthplace.com Speed Test recently came back online with a few refinements I had set out to find alternative resource that would provide me an equivalent service.
Enters DSL Reports Speed Test, apparently powered by a technology engine similar if not identical to the one originally used by Bandwidthplace, provides an effective and capable online free resource which can be extremely useful to anyone working in developing, optimizing or trouble-shooting Internet-based applications and online services.
DSL Reports Speed Test utilizes an invisible MP3 file to verify and test your effective Internet connection speed.
The technology employed to run the test requires you to have a Java virtual machine installed. Sun Java is the supported kind. If you happen to have the Microsoft Java virtual machine results may be completely unreliable or the applet may not work at all.
As the service is in much demand, your number of allowed consecutive queries to the server is monitored and limited to a few. Also, all of the main locations shown in the main DSL Report page are often overworked and will show a message indicating that the server is too busy to respond to you.
Head off immediately to the page listing all of the available world locations (over 200!) and from there you can find many speed test sites that you can find always available for your testing. From here I have been able to run effective speed tests from world locations as distant as Brazil, Canada, Austria, Indonesia, Finland, Israel, Japan, Malaysia, South Africa, Venezuela and many other countries.
Finally, I like to note that the simplest and most easily available method to measure your connection speed to the Internet is to simply download a large file and see what is the transfer rate reported in your standard download progress dialog box.
As one is always at a loss in this situations for where to find a large file to download, here is a page that serves you both the theory and file to do a speed test on a silver plate.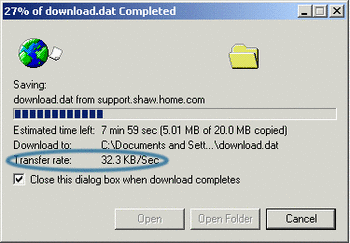 I found there are more choices from
http://www.bizratereview.com/Internet_Speed_test.asp

It will be easier to select a local one for testing.
---
Another speed test site which doesn't require java:

http://speedtest.raketforskning.com/
---
Another speed test site which doesn't require java:

http://speedtest.raketforskning.com/
---
Thank you for sharing this great resource!
---
posted by Robin Good on Tuesday, October 28 2003, updated on Tuesday, May 5 2015