The Future Of Web Conferencing: Good Interviews Bonnie Belvedere
Sponsored Links
Here is my third interview in this series devoted to explore alternative visions and ideas from conferencing industry leaders, publishers, advertisers, independent reporters and end users.
My guest today is Bonnie Belvedere from ConferencingNews, a new online information service bringing breaking news, resources, content and much Web conferencing industry related buzz.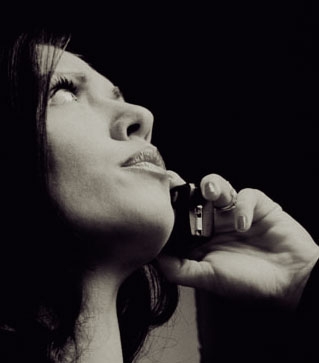 While a dedicated businesswoman dedicated to leverage the strengths and idiosyncracies of this industry, Bonnie keeps some uniquely personal viewpoints on what the future holds for us without ever getting too specific or unfair toward her "clients" in this exchange.
I invite you to read with attention Bonnie's answers to my questions and to evaluate the insights and reflections emerging from her answers about the future.
Robin Good: Why have you embarked in this venture with E-Conferencing and what are your personal and professional goals in carrying this forward?
Bonnie Belvedere: I'm always amused when I hear the term "E-Conferencing." It's redundant, is it not? Besides, "e-anything" is so nineties! Semantically, "conferencing" has always been used to mean meeting electronically through communications systems, which are inherently electronic. Undoubtedly "E-conferencing" started as "I-conferencing" - as in "Internet conferencing" - a legitimate moniker to distinguish the medium, but it's confusing with the association of first-person language usage, so it probably morphed to the redundant "e-conferencing" and somehow stuck.
To answer your questions, Robin, we embarked on our venture called Conferencing News earlier this year and launched this publication on the web on June 2, 2003. We saw a need in the conferencing marketplace for news and information that weren't being delivered in the way in which Conferencing News provides it: immediate, complete, interactive and in a magazine-style format with a cheeky, colorful and sometimes irreverent editorial slant. No other publication in the conferencing industry is like ours in this regard, especially with respect to our complete and up-to-the-minute news gathering and dissemination. Our readership of Conferencing News, or "CN," includes conferencing buyers and end-users, researchers, industry players, Wall Street analysts and investors.
As far as my personal and professional goals, what I like about managing CN is that these are fused. I want to work wherever I wish to in the world - a personal goal - and make money and have fun with a small group of people in a company connected to me electronically, in a white hot market - a professional goal. I should add that it's a stretch to call "Conferencing News" a "company" in the traditional sense of the term. CN is a modern operating entity in a post-modern world. By this I mean CN, operating on a sophisticated technology platform, is completely decentralized, deconstructed and atomized into little parts, functions, and locations - from our web developers in New York and Chicago to our remote group of contributing workers who communicate by IM and email to our ISP support to the aggregation of content from the likes of Yahoo, Amazon, and eBay. We outsource virtually every aspect of this business to our third-party vendors, and all we need to operate are our laptops - to think, write, and edit. Thus, as an organization, we are operationally virtual and culturally post-modern in every sense.
Going forward, as you ask, we'll continue to add more editorial and interactive features on Conferencing News, and we might acquire synergistic publications, or merge this operation with a complimentary organization, or sell the Conferencing News publication outright, as market conditions warrant.



Robin Good: What kind of Web conferencing tools do you think we will see in a year from now? And in three?
Bonnie Belvedere: Conferencing vendors, as least in audio and Web conferencing, have predictably added a plethora of bells and whistles to their products which has made them mediocre from a design standpoint, and now they're back trying to improve the interfaces and complete the products.
Several are doing a great job at this. I hope we'll continue to see better designs in this "feature-creep" environment. As far as specific "tools" go, I'd venture to say that we'll see more development at the "before" and "after" points of online meetings. That is to say the scheduling and managing the meeting before and the archiving-after and editing tools for conferences will continue to develop and find demand. Hotter than that, I think, are integrated Instant Messaging and Presence detection tools in conferencing environments. Eventually all of these tools will get integrated and transparent and become just another part of our everyday lives in an electronic environment.
If I may expand your question from "tools" to "technology" it gets really interesting during the next five to ten years, with the development of single channel Voice and Video-over IP conferencing, and better broadband connectivity that grows each day around the world like kudzu - particularly in the SOHO market.
By 2010, we'll see a significantly improved Internet with the so-called IPv6 implementations and an amazing amount of 100 megabit connections - which are 100 times faster than conventional DSL speed in the US - connected to businesses, homes and small offices.
SOHO workers - many of whom are leaders in individualistic business cultures - will lead the charge in creativity and productivity, partly through the use of conferencing technologies. It is around this time, about ten years from now, that we'll see the early experiments with three-dimensional holographic imaging for conferencing, in a world increasingly full of teleported human images for meetings. Human beings, via multimedia conferencing technologies, become, in part, human representations - stored and archived, even when they're gone!



Robin Good: What do you think is the most misunderstood concept in this industry?
Bonnie Belvedere: The most misunderstood concept in this industry is how these conferencing technologies in the next 10 years will utterly transform society and its economies, social structures, labor practices, and daily lifestyles.
One particular result will be that conferencing will decimate the business travel industry the way a meteor was theorized to kill all the dinosaurs that once roamed the earth.
Through conferencing and various telepresence technologies amid ubiquitous broadband communications we'll see new and more efficient ways of doing business, and a culture of web-based business identities, social avatars, and electronic alter-egos will arise. With this view, there is no irony in the fact that I am being interviewed by you, "Robin Good," also known in Rome as Luigi Canali De Rossi in the beautiful country of Italy! The transformative implications of conferencing and telepresence technologies for business practices, social norms, lifestyles, and I dare say morals are incredible, and it's just around the corner in time. When this age dawns it will be called the telegenically telepresent teens of 2013 - 2019, or some such.
It doesn't take a genius, a soothsayer, or a crackpot to have this view. One only need to read the writings of science fiction writers like Neil Stephenson who wrote "Snow Crash" and his first coinage of the term telepresence or the prognostications of policy wonk and tech commentator George Gilder to get a sense of the near future. Gilder's writings - and "Gilder's Law" about how we increasingly will "waste away" ever cheaper and more abundant bandwidth (similar to lowered processing cost and increased chip speed in Moore's Law) is brilliant - and correct.
My favorite writer related to the world of conferencing is Marshall McLuhan. His phrase "the medium is the message" rings so true in the world of conferencing. Media - in our instance, conferencing - is something that actually changes us by shaping our behavior; it becomes a technological extension of our bodies, so thought McLuhan. Who couldn't agree in the context of Web-conferencing and telecommuting? These are the horse-and-buggy days of conferencing, an industry that took shape in the mid-1980s with audio conferencing, but we "ain't seen nothing yet" as an American president once said. The cult of conferencing is still flowering.
Let me return to the subject of business travel. The smartest thing the cost-cutting, non-union, exceptional-service-providing, premier US-based airline JetBlue (a very successful airline here in the US) should do with its wonderfully valued stock price is acquire Genesys, Webex, Raindance, and Act and transition the aggregated company over the next ten years as the brand to set up meetings with - via conferencing or flying to get there face-to-face.
Conferencing will become as easy as turning on a lightbulb or a television. And right now, driving to the airport to wait in lines and take off my Manolo Blahniks and getting barefoot in the airport is a real nuisance. Business travel is dead. By this I mean the airlines that cater to businesses will never - ever - enjoy the huge revenues it once commanded. The current hustle and bustle at airports today for business travel are the last twitches in the corpse of the airline industry.
Yes, business people will always fly to have those feel-good kick-off annual sales meetings, some men will forever travel to tradeshows to attend strip clubs, and there will always be the face-to-face presentations, negotiations, drinks, and dinners to close deals and have fun in the warmth of humanity. But ever-better and cheaper conferencing services over the next 10 years will take away 75% of the typical business travel by planes that we spend lots of time and money on today. Those shuttle flights full of business people - wasting money and time - you hear scraping the sunny morning skies look to me like flying dinosaurs. Extinction is coming their way. JetBlue should buy in. The cult of conferencing will kill the airline industry.



Robin Good: In which ways are the SOHO and "enterprise" markets substantially different when it comes to Web conferencing, live presentations and real-time collaboration?
Bonnie Belvedere: This question can be interpreted and answered in economic, technical/functional, and cultural terms.
From the economic viewpoint, the SOHO market needs basic, simple, easy-to-use and inexpensive services but doesn't have the buying power to attain the significant discounts that enterprises can extract from conferencing vendors. (In the US, it's not uncommon for audio-conferencing vendors to charge large enterprises 5 cents per minute/per line for toll-free reservationless service; SOHO audio users are charged an average of 20 cents per minute/line.)
On the technical and functional side, enterprises need scaleable, secure, and integrated conferencing solutions that fit within its other systems, software and business practices, which the SOHO environment doesn't require.
On the cultural front, as I mentioned before, the SOHO world - free lancers, entrepreneurs, individualists, and some connected to the mother ship of the enterprise - will see increasing productivity with their use of conferencing. This is because of the enabling nature of conferencing technology and fiber-to-the-home connectivity, in a business day spared from the wasteful daily commute to the office and walks to eat bad cafeteria food when there.



Robin Good: Why companies having 100,000 or 10,000,000 collaboration tools out in the market (instant messengers) have not been able to capitalize on their reach, while comparatively small firms like Interwise have been able to repeatedly scout the best margins in the industry?
Bonnie Belvedere: To my knowledge, Interwise is not public company, so I can't look at revenue growth or cost structure for their margins. But I believe your assumption about their margins, and I'd attribute that to the nature of their messaging and enterprise communication products which are designed for business usage, and not for consumers - teens who should be doing homework -using silly yellow emoticons. I'm a user and fan of Instant Messaging technology. If ever there was a case and pun for McLuhan's thesis that "the medium is the message" this is it! I suspect Interwise is application-focused with their messaging technology and related - and bundled - enterprise communications to drive business objectives. Other messaging companies offering free IM services effectively advertise to teenagers and other consumers to drive them to their websites, which is a dubious strategy.



Robin Good: What do you think is the pricing business model of the future when it comes to real-time collaboration?
Bonnie Belvedere: In the longer term, per minute usage fees and per-seat licenses will go away and the cost of conferencing services to end-users will begin to better reflect the operational cost-of-goods sold by the vendor - which is the bits in bandwidth.
Users, in the future, will be charged by the metered bits for basic audio, web, and video conferencing. And these services may well be a free, value-added feature bundled within a larger set of business services offered by a large telecom or business-process-outsource firm.
Of course, vendors of application-specific uses of collaboration technologies that have specific business drivers, or vendors which bundle in related business services will be able to exert more pricing power for their larger and more sophisticated, bundled offerings.
By 2010, on-demand television and Tivo-like advertisement-skipping technology will have killed at least 50% of the traditional advertising market in television, and these advertisers will be looking for new ways to reach people. By this time, web and video conferencing will be of such a high-quality and pervasiveness and used in everyday life that the advertisers will seek to promote their brands to these highly coveted demographic groups of business professionals at the beginning and endings of video conferences and webcasts.
An entirely new market of sponsored conferencing will evolve, and it too will offset the cost of conferencing.



Robin Good: Can you name three Web conferencing products that you have used, and that you think are truly outstanding?
Bonnie Belvedere: I don't wish to name a few companies at the risk of not mentioning others. C'mon, Robin! Conferencing News is in the advertising business! Suffice it to say that while I think many web conferencing products work well, some of them have much better design and navigation features than others, and this ease-of-use aspect is an important part of the conferencing experience.
********************************
Bonnie Belvedere is the publisher and executive producer of Conferencing News, a web-publication that aggregates news in this fast-moving audio, web, and video conferencing markets. Conferencing buyers, vendors, researchers and analysts read Conferencing News and subscribe to "CN Alerts," a daily email summarizing the headlines in the conferencing market.

Related Articles: