Sunday, September 28, 2003
Online Collaboration And Web Conferencing Update
Many things are happening under the sun here in Sharewood and the view looks great indeed.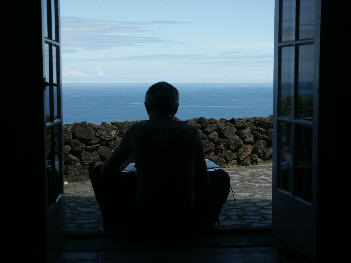 While the original Official Guide to SOHO Web Conferencing Tools has nicely made it to the shelves of Amazon, the newOnline SOHO Guide has just been updated with a number of new tools that, though I had reviewed in shorter articles, hadn't made it inside the Official Guide. Among these Glance, Voxwire and my latest discovery WebTrain. Each one of the tools reviewed has 30 sections devoted to it and, in most cases, over 50 color images to show its interface, controls and documentation.
Just to be sure you get the right hang of this, my Robin Good Official Online Guide to WebConferencing is the only independent report about non-enterprise tools and technologies for Web conferencing and real-time collaboration. Though there are indeed a good number of valuable resources about Web conferencing and online collaboration, there is indeed no other place where you can find as much detailed info on these non-enterprise SOHO Web conferencing tools.

I am adding a new Web conferencing tool every week and contributing individual reviews to the different parts of each technology sections on a daily basis.
Last Friday, thanks to the excellent technical support provided by Mihai Bocsaru we have also finished converting the large number comparison tables in a Web page format allowing everyone to access also this section in an easier to access format.
Upcoming tools to be reviewed in the next weeks are: Microsoft Live Meeting, and updates to WebConference.com, eBLVD, WebDemo and others. New tools to be reviewed and waiting in the aisle are indeed too many too mention, but if you are aware of any new entry do not hesitate in posting your comments here below.
I will be publishing this week also a few new issues of my series of interviews about "The Future Of On-Line Collaboration". After having heard from Daniel Shefer of Interwise last week, I have in store for you a number of great new interviewees and some really, really interesting insight. If you are in the industry, write about online collaboration or are an advanced user with lots of insight, get in touch with me as I may be more than interested in hearing what you have to say.
Coming up on the shoreline is also a new, unique online collaboration forum dedicated to final users operating outside of the enterprise. Individual home users, professionals, free-lance artists, geeks and IT people, marketing consultants, small organizations and non-profits are all welcome to visit and pose their questions about online collaboration or about anyone of the many non enterprise tools we will be covering. If coming by the Forum is too much then sit back and subscribe to any RSS feed available from its different sections and receive all new posts comfortably inside your email inbox.
If you use, have tried or know of a Web conferencing tool that you think I should test and review, let me know and I will certainly will give a good look to it.
Stay tuned.


For related info and other interesting news about Web Conferencing please see:
How Do I Review And Approach Web Conferencing Companies?
How Do I Select Web Conferencing Tools?
The Future Of Web Conferencing: Good Interviews Daniel Shefer
Best New Tools For Web Conferencing And Live Collaboration
Looking For A Live Collaboration Tool? Save Tons Of Time! Live Expert Advice - Robin Good Helps You Select The Best Web Conferencing Tool Right Now
posted by Robin Good on Sunday, September 28 2003, updated on Tuesday, May 5 2015