Monday, September 22, 2003
How Do I Review And Approach Web Conferencing Companies?
Sponsored Links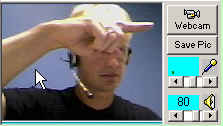 It all started with Scott Allen posting a comment on this Web site when I was talking about Best New Tools For Web Conferencing And Live Collaboration and pointing me to a new Web conferencing and live presentation tool that has indeed a lot of pizzazz going its way.
The email exchanges between me and this Web conferencing company provide a good reading background for whoever wants to see how I normally approach companies to test out their tools and what kind of communication is generated when exchanging with them.
The new technology I am referring to is WebTrain Communications' WebTrain, a very powerful new live collaboration and elearning technology that has left me more than impressed. In the minutes following Scott's post I was already logging onto the WebTrain official Web site and logging in for an informal demo with their prompt customer support staff who are always at hand.
As I was introduced to this new technology I liked it. I saw in it many intelligent touches and new ideas coming out of a group who had long worked not at patching up the existing work of different developers but at creating and further developing his own technology. After four million lines of proprietary code WebTrain was born, introducing a host of new features and an interesting set of e-commerce opportunities that offer great potential for independent publishers, online experts, educators and trainers.
Well, if you want to find out more about WebTrain I guess you will have to attend one of their great online demos and if that is not enough you could plunge into my Online Guide to find out everything else you wanted to know and which does not normally get printed on official brochures.
On the other hand here is the original communication exchange, in reverse order, that went on between me and WebTrain, in a reciprocal attempt to discover each other and for me to gain access to a testing account of their technology in order to include it (which I did) in my Official Online Guide.
Here is, in reverse order, how it went:
-----Original Message-----
From: Heike Philp [mailto:heike.philp#webtrain.com]
Sent: venerdì 19 settembre 2003 16.07
To: Robin.Good########
Subject: RE: your visit in the demo room of WebTrain Communications
Dear Robin,
please answer this question for me:
which platform are you using for Web-conferencing?
Is it Voxwire or do you use another one?
Rgds Heike
-----Original Message-----
From: Luigi Canali De Rossi [mailto:Robin.Good########]
Sent: Freitag, 19. September 2003 20:10
To: Heike Philp
Subject: RE: your visit in the demo room of WebTrain Communications
Dear Heike,
I do not have an official Web conferencing tool as I use several ones of them, depending on the task at hand.
For best voice conversations with maximum audio quality I go for Voxwire.
For sharing applications I use Glance.
For project collaboration and delivering live PowerPoint presentations I use Groove. For software and technical training demos I have used extensively Linktivity WebDemo.
For cross-platform videoconferencing there's nothing as good as WaveThree Session or Viditel (formerly Reality Fusion's Team View).
For excellent voice and best Web touring facilities I turn to VoiceCafe SalesMaster. VoiceCafe has also the greatest number of Web conferencing tools dedicated to different tasks. Their Videocom, Videomaster and OfficeMaster tools are also very good.
And there would be more to mention indeed!
Heike, in many situations I combine two or three of the above tools together to achieve the maximum ease of use and the most appropriate feature set.
For online learning and seminars I would not see WebTrain as a bad option. But how could I benefit from an access to WebTrain (having the ability to further test it and showcase it to interested customers) without becoming a reseller myself (conflict of interest)?
See, the truth is that most of these Web conferencing companies give me spontaneously full access to their best technology for free, because they have long realized that this allows them to receive a lot of useful feedback about their own technology from me, while I ethically promote to my consulting customers whichever tool I really feel works best for their specific needs.
Having no commission or direct interest in the sale of these tools allows me to keep a detached relationship with the vendors while knowing intimately each one of their technologies.
Everyone wins in this relationship: the customer who gets the best independent advice from me, the Web conferencing vendor, who can continually improve and refine its technology with my devastatingly analytical attention to details, and me, as I can provide the best advice, show to my customers the tools as they actually work and keep myself updated while having a great overview of the industry at the micro and macro levels.
Here is also a complimentary access for you to taste the flavour of my Online Guide and to have a unique preview of what I wrote about your technology. I hope you will enjoy my other reviews and will provide me with your honest, critical, unrestrained feedback.
Dear Heike, let me also thank you once more for your great spirit, work ethic and generous, giving approach!
All the best,
Robin ;-)
-----Original Message-----
From: Heike Philp [mailto:heike.philp#webtrain.com]
Sent: venerdì 19 settembre 2003 22.59
To: Robin.Good###########
Subject: RE: your Online SOHo Guide
Hi Luigi,
a first feed back:
great great in-depth examination - very comprehensive - very knowledgeable - very thorough.
Beautiful.
I will take time to go through it in all its details and I may thank you already now for your sense of professionalism.
Will be away this weekend and will work on it on Monday.
A big compliment for now.
Have a nice weekend.
Rgds Heike
-----Original Message-----
From: Robin Good [mailto:Robin.Good@masternewmedia.org]
Sent: Dienstag, 16. September 2003 15:50
To: Heike Philp
Subject: RE: your visit in the demo room of WebTrain Communications
Dear Heike,
thank you for your excellent support and availability. I have much appreciated your willingness to help me with my will to fully include WebTrain in my SOHO Online Guide.
As I have mentioned to you I think your product well deserves to be included nonetheless a pricing model that is hard to adapt to the SOHO market and which remains a bit too high for our friends the final users.
Nonetheless the above, the amount of integration, overall cost-effectiveness compared to enterprise tools, the relative ease of use and the good performance WebTrain well deserve a spot in my high quality Guide because there are indeed next to no other tool that offers as much for so (relatively) little.
I have been so well impressed by some of WebTrain aspects in fact that I had decided to include it nonetheless some of the criteria it needed to match were unsatisfied (namely: pricing and try-out opportunity). I am my own publisher and I like to break the rules when the situation prompts me for it.
With your kind help and availability I could certainly uncover more easily some of the things I want to find out while providing some very useful information to you and to my own customers. Companies like Groove, VoiceCafe and Voxwire have successfully used my insight and expertise to further improve and refine their Web conferencing tools in the past 6 months.
I would be happy to consider WebTrain a partner in this endeavour and to provide back as much insight and courtesy as I receive from this company.
I copy here below my formal request sent to Shane Finlay which has had no reply yet, and would like to confirm my interest in having an online conversation with you about WebTrain as early as possible.
I am available at your convenience.
Please download Skype and add me as your friend (robingood). I will be happy to have this first conversation outside of the WebTrain room so that I can hear with best quality and have a more spontaneous and responsive feedback (with or without headphones)(you will see the difference yourself).
I look forward to hear from you.
With my best personal regards,
Robin Good
*******
Here is the message sent to Shane in reply to his kind follow-up after my first try-out of the tool:
Dear Shane,
thank you very much for your kind follow-up to our meeting online.
I much appreciated your unique patience and genuine passion in showcasing to me the best features of your system and in answering the many questions I have posed you. Your help and support have been extremely useful and I am utilizing the info received from you to complete the 30-section review that will place WebTrain inside my official SOHO Guide To Web Conferencing and Live Presentation Tools (The original first edition is available on Amazon).
I am yet undecided as to whether I will also publish a shorter article on my site covering it, though it may be likely.
I evaluate WebTrain as an outstanding system, almost unique in the comprehensiveness of the features offered and in the well designed implementation and integration of the same. From what I have been able to see there are few weak points to it (I have identified three key ones) and they are all in areas where much improvement can be applied. I also have quite a few questions left and doubts to be cleared.
Before I submit them to you I wish to make one more attempt through this formal written request to have a limited try-out access to effectively review and test all that you have been showcasing me.
It is effectively very embarrassing and inconvenient to try features and facilities when someone is there looking over and wanting to help at every step. It is also very difficult to critically evaluate what works best from what has margins of improvement. My job is to report this unique type of information to customers who like to find out *earlier* rather than *later* about such issues.
As I mentioned this is also critical requirement that I normally use in selecting tools to review. My present feeling is that my critical analysis and my capacity to report reliably to my audience are greatly limited when testing takes place under such controlled circumstances.
*One day* would be all I need to do my work effectively.
I look therefore to your kind official feedback to the above before proceeding to submit all of my little questions,
With my best personal regards,
Robin Good
-----Original Message-----
*Unanswered* !!!
Luigi Canali De Rossi
IKONOS New Media
Rome | Washington
Robin Good
Ideas, Tools and Resources for Communication Agents
http://www.masternewmedia.org/
-----Original Message-----
From: Shane Finlay [mailto:shane.finlay#webtrain.com]
Sent: giovedì 11 settembre 2003 19.24
To: Robin.Good#masternewmedia.org
Subject: WebTrain
Hi Robin,
Thank you for your interest in WebTrain. As promised here is a PowerPoint with screenshots of our platform. Also attached is our security document and other document you may like.
As discussed today, WebTrain has over 4 million lines of code. We built the code all on our own so it is best of breed. Many of the other platforms that exist on the market today are a compilation of code. Those platforms are more expensive because many code suppliers have to be paid when the platform is used. It is a practive many technology providers use to take advantage of the "speed to market" rule. Many times the reason technology gets cheaper is that a suppliers will take the time to build the code on their own - a practice that leads to reduced prices.
WebTrian code is pure. WebTrain is proprietary, private and profitable.
Our business model is simple. With no per seat charges, licences to buy or any other fees it is an easy system to use. WebTrain is all in one - voice, video and graphics. Our backend - manage your account - section is an easy interface any one can use.
Any company can purchase the system and become a reseller of the service right from their website - an additional revenue source. Integrating the service onto a website is easy.
I hope you will include a favourable review of our service in your report. Please include my contact information in your article if you like.
Sincerely,
Shane William Finlay
Senior Account Representative
WebTrain Communications
Suite 700 - 900 West Hastings Street
Vancouver, BC V6C 1E5
Office: 604 408 0027
Shane.finlay@webtrain.com
http://www.webtrain.com

For more information about Web Conferencing and Live Presentation Tools see also:
Four steps to identify your personal Web conferencing/ experience sharing tool without spending much time and money
Best Online Resources For Web Conferencing, Live E-Learning, Real-Time Collaboration and Live Presentation Tools
How Do I Select Web Conferencing Tools?
Online Collaboration and Exchange
My RSS feed about Online Collaboration and Exchange is accessible here.