Wednesday, September 3, 2003
Best New Tools For Web Conferencing And Live Collaboration
Sponsored Links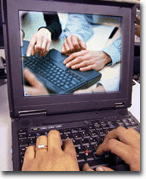 Image courtesy of NetStrategies
The Web conferencing, real-time collaboration and live presentation industries, if I can call them so, are fibrillating with new systems, complementary tools, new version releases, upgrades and completely revamped products.
There is a lot more to choose from and it is also a lot more difficult for the end-user to make some sense of the growing crowd of new brands, vendors, developers and resellers appearing in this field.
The sole ability to test, try out a system and being able to anticipate its shortcomings once implemented in a stable fashion are sometime very hard to assess.
My suggestion to you in this respect is to never settle for products that do not allow you a full test drive of the technology you are interested in purchasing or renting. Stay away from tools that offer only guided demos with their marketing staff.
Stay also away from anything that charges per seat/per minute rates. Unless you want to be donating unnecessary finances to large corporate systems there is no more a justifiable need to buy and use systems that utilize such pricing policies.
Large enterprise systems like WebEx, Microsoft Office Live Meeting (formerly Placeware) and Centra can be effective for large institutions and international organizations that need to run major large meetings and conferences online with attendants in the hundreds or with large training infrastructures and complex logistic needs.
Today, there are many cost-effective alternatives to the above which can be considered viable solutions and can provide large cost savings without sacrificing performance, ease of use or features.
Here is a shot update on the lively real-time virtual collaboration world. Good news are coming from all directions.
Let me filter a few of the most interesting ones here for you.

During the first six months of 2003 a great number of new tools and services have appeared. Some Web conferencing tools have also disappeared or have been bought over by other companies.
Among the newest and most innovative live collaboration tools I would pick outSession by WaveThree, VideoCom by VoiceCafe, and the new Linktivity WebDemo 3 as the most interesting new entries offeringgood videoconferencing with added functionalities.
While VideoCom can add whiteboard and live annotation on top of co-browsing, text chat and great audio conferencing, both the other tools offer a complete set of Web conferencing facilities integrating application sharing and remote control. Session is also an excellent multi-platform solution as it works both on PCs and Macs.
Scratched by my calipers have also been iVocalize($ 50 for a server license), iVisits (PC and Mac) and InterWise (enterprise oriented).
Very interesting the first one (iVocalize) which competes directly with several other tools (Voxwire, Orbitalk, RoomTalk, VCOM/ITI, etc.) while providing both an hosted service or a server-based purchase at extremely cost effective prices. Not good enough for audio across platforms the second (iVisits), and full-featured and solidly performing, though having a less than ideal interface and a corporate-only pricing scheme, the third (Interwise).
One interesting new e-learning oriented tool that relatively recently landed on the market is Elluminate. This is a cross-platform (PC and Mac) Web conferencing system that provides integrated facilities for delivering effective online classrooms. Pricing is still on the enterprise side but still the product could prove to be quite interesting for training and educational institutions that can afford it.
Also of note is the completely revamped eBLVD and WebConference.com (now targeting also Spanish-speaking and Chinese markets) services which had some unique notable features in their previous incarnations. I have not been able to test yet these new versions, but they look very promising indeed.
Groove has had its share of my attention, and if you have not already done so I invite you to give a good read at my Workspace Trilogy covering several interesting aspects of this breakthrough collaboration technology:
Also of note is ReplayHQ a tool which provides a much awaited service in the live presentation market. Though mostly limited to US customers due to its US-only toll free number, ReplayHQ shows an ingenious direction and an interesting opportunity for others to take on. (Read more about ReplayHQ in this review of mine evaluating how to match this service with a web conferencing tool like Voxwire).
ScreenWatch has recently caught my attention and should deserve a very serious testing. You can see a good online recorded demo of what this tool can do right here. Watch out as it is a 2MB download (Windows Media 9 required). Alternatively check out this whole set of online demos created with ScreenWatch for different purposes.
Excellent RealityFusion TeamView has now become Santa Cruz Networks for the enterprise market and reseller markets and VidiTel for the final end users.
Also new in the market is Decisioncast. Decisioncast creates webinars and works "with sponsors and clients to produce web events that accelerate the sales cycle." Their work includes strategic development, campaign management, online registration, e-mail marketing, surveys, and much more.
A couple of new Web Conferencing resources for you to explore:
Talkingtech and VoiceNow.
While both are built upon "old" HearMe technology, VoiceNow is certainly
more professional in their approach and their offerings.
You can find some interesting updates on the newest tools appearing by also checking Dr Woolley's Think of it Real Time Conferencing section from time to time.
One other new interesting online resource for conferencing news is Bonnie Belvedere's Conferencing News, a daily news alert reporting major headlines in the conferencing industry and targeted most exclusively to the corporate and enterprise markets.
Systems to resell
If you are looking into a basic good web conferencing product to resell Voxwire seems out to a good start with a well-tested technology and some solid and reliable customer service behind. Alternatively VoiceCafe can't be beaten for product diversification, good technology, eccellent pricing and a good network of support agents. Finally I would like to signal Live Conference Pro which has a very interesting White Label option for those of you who want to resell this system with their full brand on it.
A useful resource for all that relates to presentations and the use of the technology for managing and delivering them is MasterView. MasterView is both a Web site and a monthly newsletter that I have been growing and nurturing for over two years now. It is becoming a handy reference for more people and I do invite you to give it a good look and to freely subscribe to my monthly envoy.
The new Online version of my Official SOHO Guide To Web Conferencing And Live Presentation Tools is now fully functioning and I am updating everyday the tools there contained. Soon the list will grow to include several more tools and the overall catalogue will include more than 20 great SOHO web conferencing and real-time collaboration tools.
Also, if you want to find out more about live collaboration tools these are the online resources to refer to.
I personally offer a very cost-effective and useful online live session in which you can ask me just about anything relative to these new communication technologies. Next session is scheduled for Wednesday September 10th at 10pm Europe (Rome), 4pm USA East Cost, 1pm USA Pacific Coast. Sign up here.
Alternatively you can choose to get a personal One-2-One Consultation with me and hire me as your personal collaboration adviser for a very reasonable price.
Here is what Urs Frei from Switzerland had to say today about my One-2-One personal consulting service:

"Hello Robin

Thank you for the interesting dicussion we just finished. I am shure you
could help me on finding my way in the 3 items we have covered.

I feel that you do have a very professional approach especially in this unique live One-2-One live sessions.

I shall certainly call you on as my WebConferencing and Collaboration Doctor again.

Looking forward to meet you again."
Best regards
Urs Frei
TeachForce
Do you have any comments/thoughts about ReadyTalk?
---
What about First Virtual Communications' Click to Meet product? Have you taken a look at that? What do you think?
---
We've been using WebTrain (www.WebTrain.com) and have been very happy with it. We've found it easier to use than WebEx, and about 40% of the best price we could find on WebEx, Placeware, and the other biggies.
---