Manage Your Project And Teamwork Online
------------------------------------------------
CreatorBase
https://www.creatorbase.com/

= interesting, promising
Online Service
Free to try - USD $ 19.95/month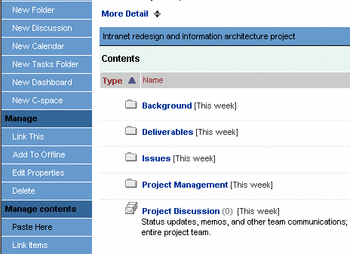 Under the auspices of the Golden Gate bridge and the smart entrepreneurial approach of Florida-born Erick Mott a new online group project support service makes its debut among those tools attempting to provide a secure space where to maintain, organize and manage project related documents and communications.
If you don't like the annoying avalanche of ads and advertisments popping up from all sides when you use or receive email from group project support free facility YahooGroups, then you should look into CreatorBase.
CreatorBase is a professional workgroup project management and support service, offering most of what many of you have been able to create with Lotus Notes, YahooGroups, Groove or with other similar tools and services.
CreatorBase by CreatorCo is another virtual real estate company, offering the opportunity to build and customize efficient and usable workgroup spaces in a matter of minutes.
CreatorBase is a new, interesting and affordable online service, providing a valid alternative to other online groupware solutions like YahooGroups, and many other commercial ones.
CreatorBase offers all of the basic functionalities you would expect from such an online service and then some more. These include the ability to post articles and documents of all kinds, as well as the ability to tightly control access to content and project areas according to the user profiles to be setup.
Created by innovative entrepreneur Erick Mott, CreatorBase leverages quality of service at a price anyone can afford.
CreatorBase integrates also calendar, contacts, discussion and polling facilities that can be deployed for each one of the unlimited number of projects you may want to manage with this system.
One effective rights management setup strategy allows the manager of the projects to easily set project-groups that include only your team versus those where client staff and managers will need to access the relevant project files.
Among some notable features:
Individuals associated to a specific project can be automatically notified of project updates, changes or messages being posted.
A whole set project files can be downloaded easily offline for editing. The system assesses the total number of files, disk space required and download time to perform such operation.
All of your emails relating to a specific project can be safely stored and organized inside one of Creatorbase virtual project folders.
Setting up CreatorBase requires relatively little time and in a matter of a few minutes one can start creating projects, uploading relative documents and multimedia files and associating contacts and colleagues to each one of them.
A weekly task manager is available and a rich perosnal profile page can be quite easily organized with the tools made available by Creatorbase. See an example of what is possible by looking at my CreatorBase-created profile page.
On the negative side CreatorBase suffers from a bit of techno-narcissism and it does not offer the smoothest access and navigation to all of its areas and features as one would want it to do.
CreatorBase costs only USD 19.95 per month and it comes with a 30-day money-back satisfaction guarantee.
Recommended.
posted by Robin Good on Tuesday, July 22 2003, updated on Tuesday, May 5 2015