Let The News Come To You
Sponsored Links
Heads on guys for one of the best tools that could have come around.
And it's also the best opportunity to switch back to Netscape/Mozilla if you have not already done so. Netscape is ready to compete again with Internet Explorer and NewsMonster brings back that grassroots, empowering feeling that Netscape had all along his early days.
Newsmonster adds an integrated facility inside your Netscape/Mozilla dedicated to the automatic gathering, filtering and aggregation of all of your selected news sources. Weblogs, news sites, Web pages, RSS feeds: they can all be tracked and brought back to you inside your browser.
What a tremendous resource for journalists, reporters, researchers, marketing people or anyone needing to be "on top" of selected information topics.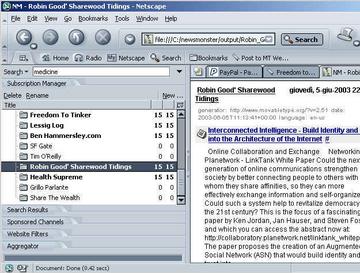 NewsMonster allows your custom, selected news and sources come to you without you having to spend time in visiting several sites, checking blogs, news and more.
Newsmonster is also the first, solid compelling reason I have found to switch back to Netscape/Mozilla, which has indeed a very nice and effective browser tool finally back in place.
Newsmonster can be tried for free withut the ability to use the change detection and tracking features that allow it to report to you if any information on your selected Web sites has changed or has been updated.
Presently available at $ 29.95 through PayPal this is a MUST BUY tool for anyone needing to aggregate news sources automatically while never stepping outside her Netscape/Mozilla browser.
If I were to ask three things in future upgrades of NewsMonster I would ask for the following:
1) Integrate email scanning and integration for briding it all
2) Allow me to edit and post from here to my blog
3) Let me email items out to contacts
NewsMonster is indeed a godsend for any Communication Agent needing to integrate news reading, RSS feeds aggregation, information tracking of Web sites and search across all these resources without ever leaving her browser.
I highly recommend it.
N.B.: This is the feedback I got from Kevin Burton of NewsMonster once I contacted him about my purchase of NewsMonster PRO (June 6th 2003).
>Dear Kevin,
Sorry for the delay in reply... I was busy yesterday trying to get
NewsMonster Beta2.6 out...
>thank you for having made available such a great product!
No problem :)
>In my humble opinion this is the first tool that gives good enough reason to
>switch back to Netscape/Mozilla and to abandon IE. Thanks also for bridging
>the gap between RSS newsfeeds aggregation and web site reporting/tracking
>and integrating all of this inside the browser. Only email is left out of my
>news sources, or is it?>
Thanks... yes... just email....
>Kevin I have ordered and paid yesterday for a copy of NewsMonster Pro but
>have received no feedback, or follow up after having paid through PayPal.
>Will I be able to activate the Website Filters as I had hoped?
If you have any I can add them. I am still trying to work on a UI for
this.
>Ah, by the way check out my short review of NewsMonster at:
>http://www.masternewmedia.org/2003/06/07/ let_the_news_come_to_you.htm
Great review... thanks! I will probably link to this in my blog.
>http://www.masternewmedia.org/2003/06/06/ on_the_road_to_communication_agents _first_stop.htm
>I look forward to your kind feedback.
>
>All the best,>
With regards to your feature requests...
> 1) Integrate email scanning and integration for briding it all
This is actually pretty hard. I might have to take reverse engineer a
lot of mail+news code to do this.
> 2) Allow me to edit and post from here to my blog
I want to do this but it may have to wait until 1.1...
> 3) Let me email items out to contacts
The latest beta has this. Right click on an item in the 3pane and slick
Send... it will open up a compose window and you can forward an RSS item
to anyone you want.
I need to add some additional support for email detection to supply
replies to blogs...
*****
To which I replied on June 7th:
-----Original Message-----
From: Robin Good [mailto:Robin.Good #masternewmedia.org]
Sent: sabato 7 giugno 2003 14.30
To: Kevin A. Burton
Subject: RE: My order of Newsmonster
Kevin,
thanks for your prompt feedback.
So, I do not get any special code or download for this PRO version yet?
And I am not clear at all on how I am to take advantage of Web filters. I bought your tool to see and test that function too, but I am helpless now that you tell me I am the one to provide to you those filters (and that you are working on the UI).
Am I paying then for future, upcoming features?
I would like just to be clear about what is the deal when one buys the Pro version since I am recommending people to do so.
I think this should be pretty transparent to the user, but has not been so for me yet.
I am probably missing something, or I have not read enough info on your Web site.
Anyway, I am confident that you will clarify it all and make me feel good again about it.
Many thanks,
Robin G.
Find out which are the best present-day tools and techniques to stay up-to-date without moving a finger.