On The Road To Communication Agents - First Stop
Sponsored Links
Some of you have recently followed my personal initiative called Communication Agents, targeted at empowering a small group of talented communicators to become more effective at what they were already doing, mostly through email and personal contacts.
What I have openly offered to them and to anybody else who had wanted to -pick up my offer was the opportunity to have a full mini-Web site (I conscioulsy avoided using the word blog not to turn them off with a technical term) in which they could have posted their know-how, reviews, commentary and articles with extreme ease of use, no technical issues to deal with and with maximum immediacy.
As Josef, Ivan and Chris took on my proposal I have spent 48 hours setting up everything they needed on my server and then I have given them precise instructions for taking the first step into independent publishing.

here they are From left to right): Ivan Ingrilli, Chris Gupta (Leonardo Da Vinci)and Sepp (Josef Hasslberger).
One is the one of effectively empowering key communicators of our time in getting their job done as efficiently and effectively as possible.
Another is to create a path that can be used by others to do the same later on.
A third one is relevant to demonstrate how effective can be the technology behind all this and what kind of consequences and opportunities it creates when strategically implemented.
So, I am taking these three skilled communicators onto a path leading to making them fully effective Communication Agents. Communication Agents or CAs, are those people that can effectively leverage their communication skills and the new media technologies available to them to bring about action, and reform of whatever does not work.
The first week has been nothing less than extraordinary for all four of us. Once Josef, Ivan and Chris were enabled, on their Macs and PCs to express themselves, they truly did... and they haven't stopped a minute yet!
See what they have been doing in this first 3 days of independent publishing online:
Health Supreme
Networking for Freedom World Wide


__________________________________________________________________
Il Grillo Parlante
Libertà Di Scelta Per La Propria Salute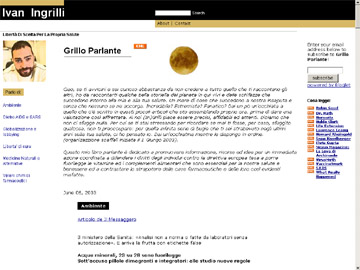 __________________________________________________________________
Share The Wealth
Self-Sufficiency Is The Key To Empowerment And Freedom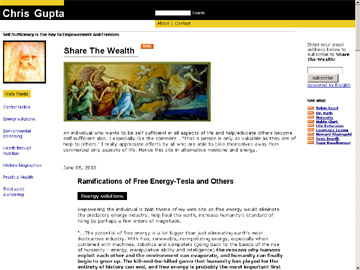 __________________________________________________________________
Let me share with you here also our latest exchanges by email on this project, so that you can all gain a glimpse on our journey, and some useful info for whoever is already coming along.
"Dear Chris,
thanks for your kind feedback and for the great work you are bringing forward.
The three of you have started exceptionally well and I am about to be ready both to announce to a larger audience your existence as well as starting to provide you with a new set of guidelines and instructions.
I am sorry for my delay in replying to this message of you.
Here is the feedback you have so kindly requested.
Here is some advice for working better in the editing and preparation of content inside MT.
The most basic solution is to write your content in a very basic HTML editor, like the one that comes integrated with Mozilla/Netscape called composer. There you can place bold and hyperlinks very easily and do the spell check. You can work in Preview mode as you want and see how things look like. Now be forewarned that you should NOT ever go out of your way to do some special formatting using fonts, margins or other variables that we have already hardwired in the system.
Other HTML edit tools will work as well. In Netscape/Mozilla Composer, once your post is ready, you need to click on the HTML button and select the text and codes standing in between the
and tags. Everything before and after those two tags you don't need. Copy and paste that code into MT and you are done.
A better and more sophisticated solution is for you to use wBloggar, an offline newsreader and editor that can work offline post to MT directly. Nice features that you want to have:
1) Work offline - prepare your posts without even being connected
2) See the preview with one click
3) Spell check
4) Do bold and URL linking very easily
5) Save and Post easily
6) Can edit existing posts and draft ones
7) Inexpensive
You can download wBloggar for free at:
http://wbloggar.com/download/
Once you have it downloaded and installed I will give you the exact information and codes to place inside its "preferences" so that it can connect directly to our server and make you happy. Let me know when you are ready.
For our friends on the Mac I have identified Kung-Log as being the best solution to do the same on the Mac platform.
The Mac users are even more penalized as they DO NOT have access even to the Bold, Italic and Hyperlink features inside MT.
Here is a very qualified list of all tools that can be used on the Mac for this purpose:
"Blogging Tools for Mac OS X"
Netnewswire Pro and iBlog maybe two respectable alternatives for Mac Os X users.
Chris, regarding your concerns about being able to publish while you are on the road, this is really not an issue at all.
For one, as you have well understood, you can access your blog and post new articles from anywhere you are. As long as you can access the Internet and you can remember the URL of your editing page and your username/password you can even post from a Mac or a Unix or Linux PC. Any Internet cafe will do as well.
Re the issue of pre or post-dating articles this is also very possible and easy for you to manage. This is indeed a very useful feature, and as I have mentioned to Sepp before I have found myself using it before. The ability to edit the posting date is available ONLY once you have first saved your post as a draft. Look at the bottom of the post and before the Save button you will see a box with the publishing date displayed. You can change that date to reflect what you think should be there. Let me know if you have any trouble using this feature.
*Commuinication Agents - Step two*
Now, that the three of you have started making your first ripples online, you need to open up to the next layer of awareness that has to be added to your reporting and journalistic activity we have just started.
"Sync-up" and "Extend the Reach"
Synching up is now very important for you, as you need to become fully part of the intelligent network of all those other like minded people who already doing what you have just started.
One first place to start is your blogroll, where you have a list of your sources. It would be highly beneficial that you could add to your reading habits also what those selected people write on their sites. Unfortunately, the amount of web sites, emails, newsletters and other information alerts coming at us makes it practically impossible to add anymore sources and feeds to our already rich reservoir of news providers.
But this is where our SECOND revolutionary step is going to take us!
*Aggregating News*
As of today you don't need anymore to go after all of those Web sites, blogs, news and alerts that require so much time and diversified browsing to be accessed and dealt with. With a news aggregator you can have ALL of the best blogs, news, and web sites updates (from ANY web site!!) come to you without you having to lift a finger to do so.
Hard to believe?
Try out my solution:
Newsmonster
http://www.newsmonster.org/
The cross platform weblog manager with a brain.
a) Both PCs and Macs can use this.
b) It doesn't require Internet Explorer.
c) Works great with Netscape and Mozilla.
This tool integrates within your browser and will automatically collect for you all of the news, updates, posts from blogs and other selected information you will set it to search and aggregate for you. Days of searching around are erased from your normal routine allowing you to see more of what is happening out there and linking up to it.
The PRO version costs now USD $ 29.95
I have a PRO version on my PC.
Nota Bene: Included in the newest release of NewsMonster is a new feature called "Weblog Universe" which is only available to users of NewsMonster PRO. The Weblog Universe allows NewsMonster to discover and recommend new weblogs and uses reputation to help manage subscriptions. This will also supply an important part of the up and coming "distributed reputation system" which will be included in the final NewsMonster 1.0 release.
Other Popular News Aggregators (Win & Mac) - these specialize simply in collecting blog feeds
AmphetaDesk
http://www.disobey.com/amphetadesk/
NetNewsWire
http://ranchero.com/netnewswire/
MacReporter
http://www.inferiis.com/products/macreporter/
Once you have NewsMonster ready, you need to fill it with some feeds. There are a few different ways of doing this.
The simplest way is to look for the small orange XML or RSS rectangular icon on sites that publish news or weblogs. Right click on that link to see the URL of the feed. It should probably an address ending in .RSS or .RDF.
Unfortunately, there does not seem to be one single place on the web which lists all the different available blogs and news feeds, sorted into helpful and consistent categories. Here I am providing for you some useful places to look:
1) Syndic8
http://www.syndic8.com
2) News Is Free
http://www.newsisfree.com
3) Another underrated free news source is Moreover and it is possible to subscribe to any Moreover topic in a news aggregator. Each Moreover topic will have the text "o=portal" somewhere in its URL. Paste the URL into your aggregator, but make sure that you replace the "o=portal" with "o=rss."
http://www.moreover.com/
4) Google blog searching. Not available yet, but you can get around it by looking at the URLs that Google reports. Most blog originated ones have the word "archive" inside the URL, and thus if you can spot it or filter results accordingly there you have a powerful blog search tool.
5) Daypop - Top Posts
http://www.daypop.com/
If DayPop works, then head off to Top Posts and see issues and topics being heavily discussed in the blogosphere.
6) Globe of Blogs
http://www.globeofblogs.com/?x=topic
Fantastic resource. Could not do without it.
7) Bloghop is quite an interesting site for searching blogs. Its most obvious limitation is that it only searches a self-selected sample of blogs – those which have been submitted by registered users. The interesting twist is that each web log is rated by the other Bloghop registered users, so Bloghop also has a limited peer-review function. I had a fairly good impression of their search engine. Bloghop might be useful for searchers who are more interested in relevance than recall.
http://www.bloghop.com/
8) Also, each of the main blog software vendors (Blogger, Movable Type and Radio Userland) offer lists of recently updated and most read blogs.
http://www.movabletype.org/
http://www.blogger.com/
http://www.userland.com/directory/71
Some useful complementary tools.
9) Blogdex.
Using "track this site", it is possible to view which blogs are linking to each story. Blogdex also has a search function. It is possible to search for terms in a site's URL in addition to its body. This makes it possible to see which blogs are linking to any selected site(this could be one way of finding a disgruntled customer or employee blog). (Blogdex only seems to index web logs created with Blogger or Movable Type.)
http://www.blogdex.com
10) Technorati
http://www.technorati.com/
Technorati allows you to see who is linking to your weblog or to any other one.
*Review*
Again, for you the goal now is to "Sync-up" by:
a) Utilizing/adopting a news aggregator like NewsMonster
b) Finding selected blogs and resources for your News Aggregator to monitor and report to you.
c) Sync-up with hot topics and issues avoiding being a reported completely disjointed or chronologically out-of-sync with the most important matters at hand. Since there is a lot to report about, focus on the present.
Extending the reach and evolving the style and approach that you use in your online publishing are parts of our next class on how to become effective Communication Agents.
You will need to move from "passers-on" of information to "aggregators" and "callers to actions" through a number of gradual, paced steps. You will also need to expose your great content to others to syndicate or pick up inside their official news.
All of the above and more in my next CA class.
Love,
Robin"
Here are also some excerpts from our communications in the last 48 hours:
"Look what you made me do, Robin!
Josef
>Date: Wed, 04 Jun 2003 09:24:49 -0400
>From: Linda Klassen <#####@cogeco.ca>
>To: Josef Hasslberger <####@lastrega.com>
>Subject: Excellent!! Josef!!
>
>
>Hi Josef,
>
>Thank you for the notice of the website you have produced. I can see
>how the time I spend on the computer researching and keeping myself
>informed of the truth of what is really going on in the world is going
>to be extended. It has happened already. I have been reading at your
>site all morning. I just finished sending your page on Dr. Eva-Maria
>Hobiger's report on 'post-war' Iraq to Mr. Stephen Harper, Official
>Leader of the Opposition, who has been far too supportive of the
>Bush-Brit war, and Cc'd to Prime Minister ChrÈtien, whom Mr. Harper
>continues to ridicule for having denied Canadian support for Bush's
>illegal war against Iraq.
>
>I see other articles on health from which I will be selecting material
>to send to Ms. McLelland the Minister of Health as well and Cc'ing M.P.
>Dr. James Lunney who is currently fighting for changes in Canada's Food
>and Drugs Act to allow access to natural health products.
>
>No doubt you have greatly improved and increased your ability to furnish
>'internet activists' with ammunitions to destroy the deadly illusions
>with the searing light of the truth. Thank you, Josef, for your
>commitment to your fellow creatures and to truth and integrity. It does
>the heart good to be aware of the company of such souls in the world who
>are so engaged in the battle.
>
>Be safe and well, always.
>
>L. Klassen
-----Original Message-----
From: Josef Hasslberger [mailto:sepp@lastrega.com]
Sent: giovedì 5 giugno 2003 9.54
To: ikonos.sas@agora.it
Subject: RE: Excellent!! Josef!!
I'm starting to realize...
Josef
>I am very happy to see this happening.
>
>I am glad you are seeing it too.
>
>Sepp, this is only the tip. The very tiniest tip of what awaits you (and
>me).
>
>
>Robin
>
More to follow...stay tuned.