Attention Scope
How To Safeguard Computer User Focus And Attention While Eliminating Notification Overload
The Scope
http://www.research.microsoft.com/adapt/scope/

= interesting, promising
Prototype
Free
The Scope is a glanceable visual notification summarizer.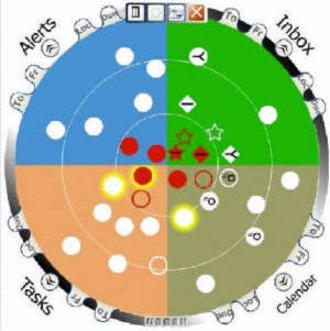 The Scope is a new data visualization tool that helps people manage the increasing number of notifications asking for attention on a computer environment.
The people at Microsoft Research (Maarten van Dantzich, Daniel Robbins, Eric Horvitz, Mary Czerwinski) have worked hard to design this simple information visualization tool that helps to aggregate all notifications coming from your computer (e-mail, instant messages, calendar appointments, work to complete, etc.) and reduce the number of distractions.
The design employs a circular radar-like screen divided into sectors that group different kinds of notifications.
The more urgent a notification is, the more centrally it is placed.
Visual emphasis and annotation is used to reveal important properties of notifications.
Several natural gestures allow users to zoom in on particular regions and to selectively drill down on items.
Designs were sought that could empower users to stay focused on their primary task, requiring minimal attention to stay aware of incoming notifications and pending tasks.
Watch the full gallery of interface design prototypes here.
An interactive Flash-based mockup of the Scope is also accessible here.
Interface and information design specifications and best practices learned in this exercise are clearly listed and visually documented here.
Very interesting for any serious Interface or Information Designer.
In your opinion, is this a successfull interface solution?
Why?
Comments are welcome and each one receives a public reply from me.
posted by Robin Good on Monday, May 26 2003, updated on Tuesday, May 5 2015